While some examples are obvious and others subtle, however you look at it, it's clear that food retail is being continually disrupted in non-traditional ways.
Gone are the days of the supermarket space race where the giants fought price wars and gave consumers overwhelming choice to maintain market share.
"It's clear that to remain competitive, retailers are having to respond to changing customer behaviour"
Their competitors – perhaps the giants of tomorrow – know convenience is king, and that finding new disruptive ways to keep shopping simple means survival.
Becoming adaptable
When facing disruption, retailers can choose to embrace, copy, or run away. Those that embrace are busy experimenting with new ways to entice consumers to try something new.
Those that copy are becoming highly effective at finding great ideas and implementing them quickly, while those that run away from disruption, continuing to operate in the same way, are struggling to maintain market share and profitability.
What's interesting about the challenges facing food retailers is that disruption is coming from outside their immediate environment.
Whether it's prepared and measured ingredients delivered straight to your front door or rare and exciting wines to your cellar; they are not coming from industry incumbents. They're coming from startups, web giants, or sometimes even your next door neighbour capitalising on the sharing economy.
One familiar example is HelloFresh, whose products sit somewhere between ready meals and traditional food shopping.It delivers step-by-step recipes to your door alongside the measured out ingredients you need to make them.
Customers clearly find HelloFresh's products compelling; its revenue figures show a rise from €2.3m (£2.05m) in 2012 to €304m (£272m) in 2015.
"For any organisation to survive disruption, it must look outside its own walls at what's happening"
Perhaps less well-known is Josephine, an American startup who could really challenge food retailers by offering a platform for home cooks to sell meals direct to their neighbours from their kitchen.
Another business with exciting potential in the US is Instacart, who is enabling small, independent food retailers to keep up with giants like Amazon by offering a comparable same day delivery service. Instacart provides delivery from partner stores to the home, in as little as one hour.
Beyond class system divides
Indicators of disruption in food retail can be seen in stores across the country. The surprising rise in the number of middle-class shoppers regularly visiting discount and pound stores has been well reported.
Families considered to be upper middle class or middle class account for around one third of the shoppers at Aldi and Lidl.
We've seen the growth in white label product sales, and the shift from convenience stores that are now stocking healthier snacks than chocolate and sweets.
It's clear that to remain competitive, retailers are having to respond to changing customer behaviour.
For any organisation to survive disruption, it must look outside its own walls at what's happening. It's only by building relationships with leading venture capitalists, start-ups, academics and research labs that you can understand the new innovations and technologies that are coming around the corner.
It's through this ecosystem that I found American wine marketplace Underground Cellar, which have the potential to eat into retailers' wine and spirits market share by offering a more exciting product range, coupled with a gamified upgrade model on purchases.
The world is moving on, and you can't out-innovate the market. I have the privilege of working with some truly forward-thinking retailers, the "embracers" who have learned to truly live the innovation agenda, leading from executive level. These are the retailers that 'get it'.
The companies who are best set up to respond to the constant change in customer behaviour, and grow as a result.
It is always sad to see once-thriving retailers all but disappear from the high street, but this is the result of carrying on as they always have, in denial of what is changing around them.
It is an increasingly difficult environment for retailers to navigate, but there is a choice. Will you embrace, copy, or run away?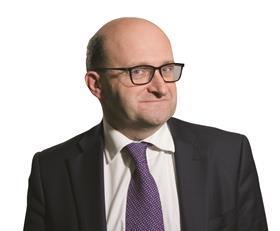 Brian Kalms is a partner at Elixirr