John Lewis sales jumped 6.4% as the rain and stormy conditions encouraged shoppers to snap up wet weather gear.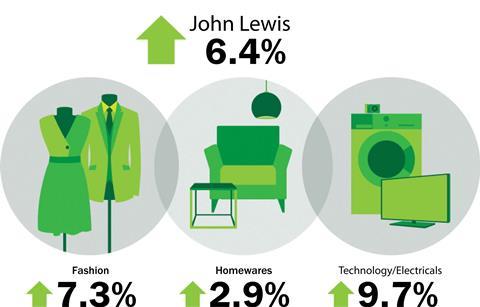 John Lewis buying director for electricals and home technology Ed Connolly said: "Wet weather ranges were predictably positive; umbrellas had a very strong week and we were also noticeably buoyed by Wellington boots, macs and even waterproof mascara."
All three divisions, fashion, home and electricals and home technology grew over the week to February 15 and online sales soared 26.4% offsetting any impact from the adverse weather conditions.
Electricals and home technology had the strongest performance, with sales up 9.7%, driven by vision, audio and white goods.
Valentine's Day merchandise soared with sales rising 7.5% on last year and cards were up 23%. Fashion also experienced a Valentine's Day lift with sales in the category up 7.3% and fragrances and watches selling especially well. For men, cufflink sales jumped 14%.
Waitrose sales increased 9.2% over the week also driven by Valentine's Day as shoppers snapped up its special meal deal promotion for the big night.
The cold weather also led to people opting to stay home with comforting meals. Sales of Waitrose's classic British ready meals soared 26%, pie sales rose 27% and sausages were up 16%.
The spectacle of the Winter Olympics in Sochi has also encouraged people to stay home.
Waitrose commercial director Mark Williamson said: "Customers have been seeking quick and easy meals to allow maximum time to enjoy watching events. Sales of our pizzas and Indian ready meals have each risen by 20%."
The miserable weather also led to a surge in demand for beauty products as shoppers sought a "quick pick-me-up", according to Williamson. Sales were up 13% over the week and bath and shower products were up 14%.