London's West End has topped a recent report ranking European towns and cities by retail spend, with a spend of £8.5bn in 2013.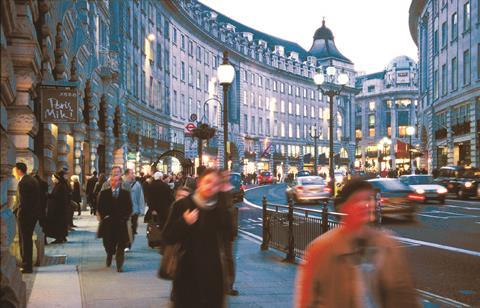 Other cities that ranked highly on the list (see attached tables, right) included Paris, which came second with a retail spend of £7.7bn in 2013 and Madrid, which came third at almost £5bn.
The report by Harper Dennis Hobbs and the International Council of Shopping Centers also found that the UK has the greatest number of towns and cities in the top 50, with 10 in total.
David Harper, chief executive of Harper Dennis Hobbs said "we will produce these rankings annually to account for new retail development – which is particularly prevalent across Central and Eastern Europe – and changes in consumer spending".
The report analysed and ranked more than 15,000 towns and cities across Europe and was based on the 2km radius around the town or city centre, which is thought to be the maximum distance shoppers are willing to walk on a single shopping trip.
The results indicated that the success of a town or city centre depends on three factors: the retail spends of local residents, local workers and tourists who visit the area as a shopping destination.
ICSC chief global co-ordination officer Mike Morrissey said: "There are some second city entries high up the table where tourism has a lesser impact, but which have strong retail cores with a wide choice of retail on offer, such as Glasgow and Hamburg".
Harper Dennis Hobbs has advised new entrants to Europe such as American Eagle and J Crew, as well as established brands such as Estée Lauder, Karen Millen and Oasis and collaborated with ICSC on the report to investigate which European locations are most important for global retailers.