Driving innovation, embracing new tech platforms and speedier fulfilment are some of the characteristics defining international success, a new 30-retailer benchmarking report finds.
Launched today, the International Retail Index 2019, produced by Loqate in partnership with Retail Week and Edge by Ascential, reveals how 30 retailers are cracking global trade and why Amazon, Ikea, H&M, Asos and Boohoo are leading the pack.
Focusing on key markets for international expansion – the UK, US, Benelux, the DACH region and the Nordics – the list contains 15 global players based on worldwide sales, as well as large retailers in key sectors such as beauty and electronics, and a curated list of smaller operators with promising business models.
The ranking and analysis reveals some interesting results.
For example, Asos and Boohoo rank higher than Apple – one of the world's most recognisable and valuable retailers – owing to their capacity to deliver to 200-plus countries at rapid speed. Meanwhile, Zalando is commended for ramping up its new market strategy in recent months.
The success of these businesses helps to illustrate the dos and don'ts of international trade.
Top five dos
Do treat international development as an opportunity. Even relatively small or early-stage retailers can reach a global audience quickly without significant investment.
Do instil confidence and usability for international shoppers by offering language and currency options, as well as address verification.
Develop a global social media strategy that identifies the key platforms, the differences between them and how engagement can be built and maintained.
Do tailor your ranges to local markets or even each individual shopper.
Do look to the leading global digital ecosystem operators (Amazon, Alibaba, Google, JD.com) – they are raising the bar and their global ambitions mean you should be considering either competing or partnering with them.
Top five don'ts
Don't limit your ambitions to thinking local. Shoppers in your market may be interacting with and influenced by experiences and brands from anywhere around the world.
Don't expect the pace to slow down. If anything, plan for even faster rates of disruption as new technologies and players emerge.
Don't bet on customers doing the work for you. Shoppers expect ever greater convenience, usability and experience, and will desert retailers that are unable to deliver.
Don't expect international shoppers to wait. Customers are increasingly demanding same or next-day delivery for domestic orders and are unlikely to wait one or two weeks for international orders.
Don't be scared to experiment and embrace failure. It's better to be proactive and agile than be too cautious and risk getting left behind.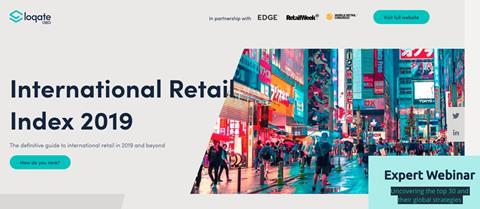 Download your free copy of the International Retail Index 2019 today to discover:
The international strategies behind the 30 profiled businesses
A benchmarking report on each retailer's international capabilities
Why Amazon leads the pack, but Boohoo is rising fast
How global players Alibaba and Wildberries are innovating

Loqate, a GBG solution, is the world's most trusted data specialist in location intelligence for businesses of all sizes and sectors.