The Audit Partnership Corporate Social Responsibility Initiative of the Year Award was handed to Ikea for its commitment to the green agenda.
Ikea's 'People and Planet Positive' strategy impressed the judges with its ambition, scale and long-term commitment to making a positive impact on the environment and communities.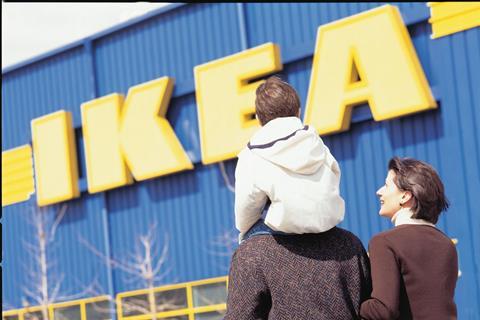 The furniture and homewares retailer has a series of ongoing initiatives to those ends focused on energy independence, inspiring customers to live more sustainably and creating a better life for people impacted by its business.
By 2020, the retailer aims to produce more energy than it uses, increase sales of sustainable products fourfold and use 100% Forest Stewardship Council-approved or recycled timber for its furniture products.
Ikea's entry highlighted the work it had done to achieve these aims as well as laying out its continuing efforts to deliver its pledges.
Going green
The retailer had cut its UK store and warehouse energy use by 5% and has two wind farms and 36,000 solar panels, which provide more than 50% of its energy across its UK business. Ikea plans to install another 10,785 solar panels at stores to meet 60% of its energy needs this year.
At present, 42% of Ikea's timber, which is used for furniture components such as bookshelf backboards, is recycled and 100% of its cotton is sustainably sourced.
"Ikea has taken a brave step by committing to delivering its promises by 2020. Its work so far is indicative that it will deliver on its commitment"

Awards judge
The retailer's sales of sustainable products also rose ahead of its target. This increase came after Ikea converted its entire lighting range to LED bulbs and launched a sustainability marketing campaign. Sales of LED bulbs soared during the campaign, indicating to the judges that Ikea's initiatives were both commercially and environmentally impactful.
The retailer's comprehensive commitment to the environment and wider community stood out for the judging panel. One judge said: "Ikea has taken a brave step by committing to delivering its promises by 2020.
"Ikea's work so far is indicative that this retailer will deliver on its commitment."
To fulfil its environmental commitments, the retailer has taken steps to ensure sustainability plays a key role in its company culture. It has more than 500 sustainability ambassadors across its UK workforce, and last year 81% of employees said sustainability was a part of their everyday work.
Ikea has reinvested in driving its renewable energy efforts. For instance, last year it halved the price of one of its most popular LED bulbs.
Environmentally friendly
The breadth of Ikea's sustainability initiative grabbed the judges' attention, as did its efforts to use environmentally sensitive methods to drive sales and customer engagement.
"Ikea's entry is the stand-out winner"

Awards judge
Whether the retailer was donating solar lighting panels to refugee camps or planting its 750,000th tree with its Woodland Trust partners, Ikea's efforts to work with staff, suppliers and customers alike to push the sustainability agenda were clear for all to see.
One judge observed: "Ikea's entry is the stand-out winner – it is a sizeable, scalable, incredibly measurable solution that will have a real impact on people and the planet."
Audit Partnership
Audit Partnership provides industry-leading profit recovery services to forward-thinking, leading retailers and corporate companies. We operate a genuine partnership approach, with our clients' needs at the heart of everything we do.
Audit Partnership has a proven track record of introducing services to new businesses and developing a deep understanding of clients' needs and objectives, enabling it to provide a fully tailored service. Using people to find people's errors, Audit Partnership is not over-reliant on automated systems to identify erroneous payments or profit leakages. Using fully trained specialists alongside our bespoke systems, we provide an unrivalled level of coverage.
That's why some of the UK's leading retailers trust and work together with Audit Partnership to improve their processes and drive their performance. Auditpartnership.co.uk