With many of the UK's high streets under the economic cosh, can local initiatives save the day? John Ryan reports from Maidstone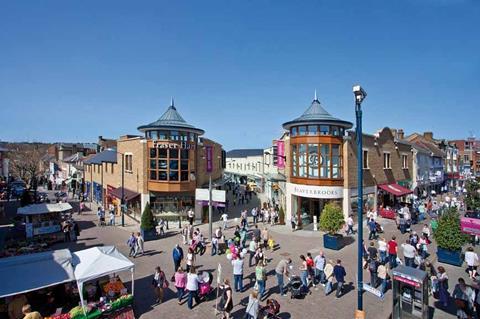 High streets in the UK have taken a battering for years, whether it's the accusation of 'clone Britain' where every town centre retail thoroughfare looks the same, or more recently, 'ghost town Britain', where units lie empty and semi-derelict. And the perceived villain of the piece in both cases is generally the retailer, variously accused of not caring about locations or of being sensitive to the effect that closing or indeed opening (particularly in the case of large supermarkets) stores has on local communities.
In the media, some pretty gratuitous retailer bashing has proved a simple route to getting articles read as shops – or their absence – are probably the most tangible evidence of the economic wellbeing of a high street. There are, of course, two sides to this story and the one that tends to garner rather less publicity is the efforts made by retailers to work with town centre managers and local communities to improve the look, feel and viability of a local high street.
Maidstone tour
In late May, as part of a Business in the Community initiative, Alex Gourlay, chief executive of the health and beauty division at Alliance Boots, led a mixed group of retailers, town centre managers, developers and a government minister, on a study tour of Maidstone.
Under the heading "Seeing is believing", the aim was to look at how store managers' actions can have a positive impact on the prosperity and health of a local high street through local action. Gourlay commented: "We've chosen Maidstone because it's one of the better examples of how business forms links with the community."
Prior to the visit, Business in the Community, a not-for-profit body, had carried out two surveys looking at attitudes among store managers to Business Improvement Districts and to town centre managements.
The results do not make wholly salutary reading. The first was actually carried out in August last year with the assistance of the Association of Town Centre Management and sought to uncover the reality of engaging large corporate retailers in the life of a town.
Of the responses from about 150 town centre associations, one of the 88% of town centre partnerships said there were 10 or more corporate brands in their town centre, showing the importance of multiple retailers to those centres.
Worryingly, however, a little under half of those who replied said only one or two store managers out of this notional '10 or more' regularly attended town centre steering groups and more than 15% said none of the large corporates ever turned up.
More encouragingly, 38% of town centre managers said that they knew of an outstanding example of a store manager who had worked well locally either now or in the past. Nonetheless, Gourlay noted: "I've got a big job to do to encourage my managers to be more active in the community. I think that when retailers are pushing so hard to make sure we win customers, one can become a little internally focused."
Management difficulties
The second survey was carried out among store managers and highlights the difficulties facing store managers working for large retailers who frequently get moved between stores, often a long way from their local communities.
It polled branch managers working for 'well-known' high street retailers. 53% of them said they had been running their current store for less than two years, perhaps calling into question their capacity to influence the world beyond their own front doors.
Equally problematical was the fact that 62% of them lived more than 10 miles away from the shop in which they worked and 44% said they were not involved in the local town centre partnership.
The latter statistic reflects the difficult economic times we live in as more than half cited the notion that "the business has other priorities" as the reason for their lack of participation; 43% said they would need to see how business benefits for their store could be demonstrated before they might be minded to make greater efforts to take part in the activities of the community.
A bleak picture exists and there is considerable room for improvement. But what are the benefits that can accrue from playing a greater part in the business life of the community and how do town centres persuade store managers to become more involved?
On the Maidstone visit day it was clear that what Gourlay refers to as a "sense of civic pride" was evident in the town. He added that this manifests itself not just as a location that people want to shop in, but that levels of security were higher and incidences of anti-social behaviour were lower. "It also seems that where business has strong links with the community there is a greater opportunity for more long-term investment," he said. Gourlay coupled this with the future: "Towns where this takes place seem better at looking at what's going to happen in the future and to work towards this."
The manager's role
It might seem that there is little chance of persuading a store manager to sign up to greater local involvement while there is the matter of running a shop and attracting cash-strapped shoppers to prise open their wallets. Gourlay comments: "As always, it's a matter of helping people to understand the context." He adds that every store manager has performance targets and that if a measure of community involvement is included as one of the parameters, then this can work: "We're looking at doing this next year," he says.
In Maidstone, Bill Moss, town centre manager since 2002, says when a new retailer arrives he will try and develop a relationship with them through visits, calls and emails. If this barrage proves to no avail: "I'll just wait for them to go and try again with the new manager who replaces them."
The reason that the precepts recommended by Business in the Community are embodied in Maidstone has not happened by accident.
The opening of Bluewater in March 1999 provided the spur that was needed to get things started.
The Kent megamall is 19 miles away, but road links are good and the local council was keenly aware of the danger that large numbers of Maidstone shoppers would eschew the obvious retail charms on their doorstep and get into their cars.
This was a period when shopping in Maidstone consisted predominantly of The Mall, home to many familiar names, and a somewhat lacklustre high street.
Today, it looks like the modern town planner's vision of how a middle-sized town should function with open air cafes, street market traders and a long, winding, open-air shopping development in the heart of the town, Fremlin Walk – built on the site of the former Fremlins brewery, which closed in the 1970s. Fremlin Walk opened in 2005 and today has more than 50 shops, alongside the 75 in The Mall.
There are remarkably few vacancies and on the day that the Business in the Community group toured the streets with Moss, it was busy and the cafes were filled with cappuccino-sipping folk, helped by a sunny day.
What is clear is that the relative transformation that has been wrought in Maidstone has not taken place overnight and that it has done so by a concerted and relatively united effort. Ed Davey, Minister for Consumer Affairs, who attended the Business in the Community meeting, said: "What's really important is having strong leadership. If you don't have this, then things don't happen."
The leadership provided by Moss has meant that retailers have been in a position to deal with everything from uniform extended opening hours to financing retractable town centre bollards that create larger pedestrianised areas in the town centre during peak trading times.
And as well as fostering links with business and endeavouring to ensure it makes the appropriate links with world beyond its own sphere, Moss has also been responsible for reaching out to the broader local and commercial community in order to improve matters for all.
Practically, this has meant generating positive local publicity for the town centre through local newspapers and radio and also attempting to engender a spirit of self-help:
"It's about identifying one person who leads something in an area and then giving them a bit of time, encouragement and advice to make it happen," he says.
Flexibility and teamwork
Mark Bourgeois, managing director of shopping centres for Capital & Regional, who attended the Maidstone meeting, says: "One of the challenges that faces town centre managers and retailers [looking to regenerate a specific location] is that town centres that were developed in the 1980s are still around and in many cases they may have stores that aren't really appropriate today." He continues: "There is still an oversupply of retailer space and inappropriate out-of-town supermarket and superstore retailing."
He says more progressive attitudes and greater flexibility on the part of property owners are both key to turning around failing high streets. He suggests that alternative uses have to be found for existing vacant elements in town centres and that the treatment of car parks as "cash cows" by local councils can tip the balance between a shopping trip to a high street or an expedition to the nearest regional shopping centre.
There is more to extending links with the community than attending a meeting once a month or quarter.
What, therefore, are the chances of taking high streets that have been largely deserted by shoppers and reinvigorating them by initiatives of the kind that have been undertaken in Maidstone? "You'll never change a struggling high street overnight. It'll take five to 10 years," says Gourlay.
A long game therefore and one that perhaps requires a catalyst in the shape of an effective town centre manager for it to become a reality.
Business in the Community recommends a process-driven approach. This translates as constantly reviewing progress, incorporating feedback and in the case of managers who live a long way from the store they run, appointing a named person working in the store who can be responsible for local liaison.
There is no shortcut to a vibrant town centre and the response on the part of retailers will vary from one to another. The response from a John Lewis store director, for example, will probably be different from that espoused by a McDonald's manager, even if the goals are identical.
The findings of the Business in the Community initiative have subsequently been taken to Number 10 with a call for "local and national government to share best practice between local partnerships". They also urged the Government to trust businesses to lead local partnerships as they are "the best business brains you have in the high street".
All of this may not be a panacea for every location, but there are certainly many that could take heed of how Maidstone has fared.