In the latest instalment of our Retail Reimagined series, examining how traditional formats would look if they were redesigned today, Grace Bowden explores the beauty store 2.0.
The UK beauty store of today is split into three main components. First, there are the high street stalwarts such as Boots, which sells everything from mascara to medicine to meal deals in a relatively clinical and undoubtedly well lit environment.
Next, there are the department store beauty halls – cavernous mazes bursting with perfume sampling sticks and uniformed employees across myriad concessions with commissions to hit and promotions to push.
More recently, a third strand of the bricks-and-mortar beauty retail has emerged, with experience led disrupter brands like Lush and Space NK creating immersive in-store experiences and passionate brand ambassadors.
Beauty is a market that is rapidly proliferating, with new battle lines between traditional beauty brands and new Instagram-favourites being drawn.
But is there a way for a store to sate a beauty shopper's appetite for wellness inspiration, retail convenience and social cachet all in one store? We speak to beauty sector experts and store design stalwarts to find out how they would design a beauty store that was truly fit for purpose in 2018 if they could start from square one.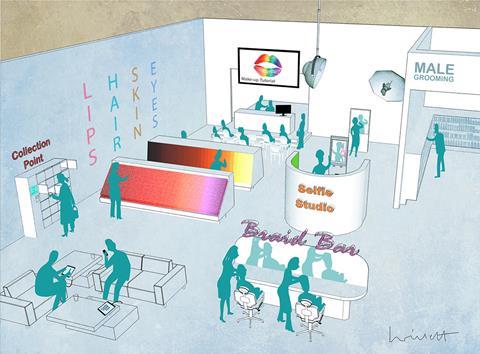 Lead by product, not brand
The traditional department beauty hall with brand concessions and makeup artists armed with brush belts and two-for-one offers is increasingly out of step with how customers want to shop.
Amanda Scott, managing director of Marie Claire and Ocado's joint beauty venture Fabled says: "The beauty shop of today can be quite intimidating, particularly when you have a consultant on commission hard selling.
"It's not about self-exploration or educating the shopper and because younger customers are influenced in such different ways, particularly by social media, they do not want someone all over them as soon as they walk into the store."
Birchbox has moved away from this ranging approach in its store and instead organises products by type rather than brands. Its shoppers can browse all the red lipsticks across multiple brands in one place, rather than flitting from one concession to another.
Fragrance retailer Floral Street's founder and chief executive Michelle Feeney believes this is much more in keeping with how customers look for and buy products.
"Unfortunately most retailers have allowed themselves to be dictated to by the brands or the big players and therefore end up looking pretty standard wherever they go. This was the way of the past but I don't think it should be the way of the future."
Another alternative is to organise products by experience type or creating looks.
Shops could have sections such as 'summer glow', where shoppers could find highlighters, bronzers and tanners, or 'vamp it up', with a broad selection of red lips and smoky eyeshadows.
"Employees should have a big sister/best friend giving you advice vibe, and I would definitely up the amount of staff in store"

Simon Comins, Superdrug
Reasons to visit
Service should also play a central role in beauty store, with staff offering impartial advice and educating shoppers.
Superdrug's commercial director Simon Comins says: "Employees should have a big sister/best friend giving you advice vibe, and I would definitely up the amount of staff in store."
He also suggests beauty stores could also be divided into experiential zones, such as areas for shoppers who want skincare advice, or those who want to buy a luxury bathing experience.
"The ideal would be to create a beauty playground," he says. "Everywhere the shoppers goes there should be something going on that they can learn from or interact with, with staff who are fully trained and able to demonstrate things that a customer hasn't seen before."
The rise of YouTube makeup tutorials and Instagram influencers in recent years means that the beauty industry today thrives on shoppers' search for the latest 'it' product or trend.
But how can retailers create the same level of hype around their in-store experience?
Julie Oxberry, managing director of store design consultancy Household, suggests that "seasonal displays and pop-ups could provide a rotating schedule of events", meaning there "is something new to experience every time you visit".
"In the summer, a beach themed store helps guests find their summer essentials, from the best suncare products to the perfect nail polish to compliment your tan. For back-to-school season, the store focuses on easy to maintain morning routines and professional hair and makeup looks," she explains.
"Each week you could change the store so it could be about the perfect night-time look one week and self-care and eating well the next."
Oxberry says these product overhauls and themed in-store events could be supplemented by external experts, such as sessions with makeup artists and wellness gurus.
Retail design agency Sheridan & Co's founder and chairman Michael Sheridan says there is an opportunity for retailers to offer product personalisation in-store to drive shoppers there.
Beauty brands such as Bite Beauty's Lip Lab in New York and the By Terry concession in Selfridges allow shoppers to pick the pigments for their own lipstick or blusher and have their personalised product made on site to take home with them.
Sheridan says this ability to create a unique product in-store with an expert consultant would entice people into store who might have otherwise bought online.
Wellness and community
The rise of social media has fundamentally changed the beauty shopper's route to purchase. While a decade ago a customer may have asked a friend what foundation they use when considering making a purchase, they now have umpteen product reviews to peruse, makeup tutorials to view and online influencers to pump for knowledge.
It therefore comes as no surprise that two cult brand favourites began life in the world of content. US brand Glossier's beginning was beauty tips website Into The Gloss, and Charlotte Tilbury uses online tutorials given by its founder, the much-lauded make-up artist.
Scott says today's beauty store must emulate this to "blend content and commerce together in a physical experience" to stay relevant.
She urges retailers to bring beauty editors and makeup artists to stores to discuss their favourite products and answer customer questions. Shoppers should also be able to book appointments with skin specialists to ask questions about what products they should use.
In-store content would need to go a step beyond beauty product demos and instead be authentically linked to a shoppers' ambitions to improve themselves. Whether the offer is an in-store meditation session or tutorial on incorporating facial massage into bedtime routines, content needs to be more concerned with customer wellness than shifting products to really resonate with shoppers.
Oxberry agrees that bringing content into the store on a daily basis is crucial – but so is creating a linger-enticing environment.
"The store should feature comfortable seating areas equipped with charging points, water bottle refill stations and a juice and smoothie counter, encouraging guests to meet with friends and hang out in store," she says.
"Customers who have less time can use click-and-collect services and can even add a smoothie-to-go to pick up alongside their products."
A more inclusive space
Mainstream beauty retailers need to cater to a wider audience than they have traditionally.
"Partner experts specialising in Afro Caribbean hair and skin should be regularly invited into the store to offer niche services in a mainstream environment," says Oxberry.
"Rihanna's Fenty line changed the product game, but this inclusivity needs to take hold in the overarching experience."
Events spanning the beauty needs of shoppers of different ethnicities is important, but Sheridan says that a beauty store fit for the 2020s needs a wider span.
"Skin colour, sexual orientation and socioeconomic factors all have to be considered in terms of design and product selection of the store – it has to be a friendly and welcoming environment to every type of shopper who might walk in," he says.
This more inclusive environment could also stem into the rapidly growing wellness market, and cater to underserved areas of the market in doing so.
"The store should feature a male grooming area, with expert male staff are on hand to offer advice and product reviews," says Oxberry. "And host workshops and events in partnership with charities such as CALM to open up the conversation on male mental health."
"Physical products don't need to be so much in evidence as they used to be. The retail space is so precious it needs to be given over to experience and engagement"

Michael Sheridan, Sheridan & Co
Less stock, more speed
One of the key rejigs needed in a beauty store reset is scaling the number of products on the shop floor.
"We've done a great job of rationalising our range but we could go further – the customer still has so much choice and it has to become easier for them to shop so they don't get confused," says Comins.
Sheridan agrees: "The management of inventory and stockholding is getting more sophisticated so physical products don't need to be so much in evidence as they used to be.
"The retail space is so precious it needs to be given over to experience and engagement."
However, Scott is adamant that shoppers want to walk out with their product then and there, and any shift in layout would need to accommodate that.
"Customers come to a shop to have experience and services fundamentally – so if the product isn't there in the shop for them to put on and walk out with themselves what's the point?"
Feeny agrees that the beauty store needs to do a better job of reducing its stock levels on the shop floor, and suggests "a fun click-and-collect section where the customer has pre-chosen replenishment items, much like the pre-ordering service at airports".
But, unlike Scott, she does not believe shoppers need to leave store with the physical product in their hands. "The customer would also be very happy ordering online in store and having it delivered. Matches does an amazing job of this," she says.
Social collaboration
Social media has arguably been the driving force behind the surge of new brands disrupting the sector in recent years – but finding a way to seamlessly incorporate it into the store is a source of debate.
Comins says a live "Instagrammable wall" which includes a live feed of Superdrug's own Instagram, as well as live product ratings and reviews could be effective.
Whereas, for Feeny, shoppers should be able to decide what and who they want to see on in-store screens.
"What if a beauty retailer had customers decide who they wanted to see or experience?" she asks. "So far it has all been supplier led not customer led and even though big companies do a lot of talking they are not really breaking any moulds."
An effective way to integrate social into the store is to make the shops themselves Instagrammable.
Glossier has created an Instagram-worthy store at its LA branch with its 'Desert Canyon' experience.
A third of the store's square footage is devoted to the experience, which features a mirror with canyon-like walls as a backdrop, and was created exclusively for shoppers to take selfies.
The area is completed devoid of product thereby encouraging shoppers to interact with it without feeling like they are being sold to.
While giving over a third of a store for 'selfie space' is not right for all beauty retailers, finding ways to engage with today's social media obsessed shopper in store is vital.
Today's beauty shoppers are more open to being inspired by the sector and what it has to offer them than ever before. The bricks-and-mortar experience just needs to catch up.
Retail Reimagined: How traditional formats might look if redesigned today
1

2

3

4

Currently reading

Retail Reimagined: Welcome to the beauty store 2.0

5

6

7

8