With a new store format, an array of cult brands and a team of in-store beauty experts, new boss Seb James is giving Boots a facelift
It's not in every interview with a retail chief executive that you learn about one of HRH Elizabeth II's beauty staples.
But within minutes of sitting down with Boots' UK boss Seb James, formerly of Dixons Carphone, he is brandishing a No. 7 lipstick shade – one of the 5,000 lipsticks the retailer stocks – called Gay Geranium.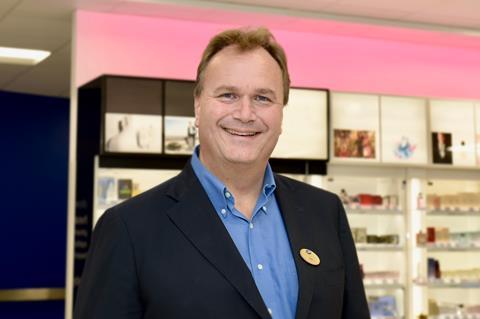 "It's apparently the Queen's favourite – a name from a happier age," he laughs. "It's quite a surprising colour, I must say. But as you wander around Balmoral, why not!"
James, who joined Boots in September, is often described as ebullient and that is plain to see during the course of our interview, where he shows off a magic mirror selfie he took of himself in Miami with super-imposed red lipstick and a Boots carrier bag emblazoned with the decidedly untraditional colours of hot pink and bright orange, which he bounds out of his seat to show me.
However, among all his enthusiasm is a healthy dollop of realism about the business he now leads and the work that needs to be done.
Things have been far from rosy at Boots of late. In its most recent financial results, parent company Walgreens Boots Alliance (WBA) posted a 4.1% fall in fourth-quarter profits, which it attributed to tough UK trading conditions.
Boots sales have been sluggish at best and more often in decline across its retail and pharmacy divisions for the best part of two years.
James admits: "I think we've been slightly shy of making the significant changes we need to make to adapt to the modern world.
"When you've built a model over 170 years and for the last 30 the model has been more or less unchanged and extremely successful, it's quite difficult to say we're going to do it all differently."
Remaining relevant
Boots has been an institution on UK high streets for as long as anyone can remember – the aforementioned Gay Geranium lipstick has been on sale since 1935.
"At Dixons Carphone, I had a rule that I'd never drive past a Carphone Warehouse without going into it. If I did the same for Boots I'd never get anywhere," says James.
This is not hyperbole. Boots has almost 2,500 UK stores – more than 90% of the population live within 10 minutes of a branch. What's more, over 85% of women in the UK over 15 are active users of the health and beauty retailer's Advantage loyalty card.
But while James believes this heritage and scale is important, he is also aware that the health and beauty retailer has a job to do to ensure it is as relevant to the customer over the next 170 years as it has been in the past.
"At the moment, walking into Boots you get the same experience whether you are coming to fill in your prescription or buy a £120 face cream," he says.
"Our belief is that consumers are becoming much savvier and more demanding about what they want from each of those experiences. If we are going to grow share, which in a flat market we have to, then we have to do better than we are, both online and in store."
The retailer is rolling out a variety of initiatives to differentiate these channels for its shoppers, which includes a trial of express pick-ups that guarantee that shoppers can collect their prescriptions in-store within two minutes, and launching an online pharmacy later this month, which James insists will "unquestionably be the best in the market".
Store overhaul
But arguably the most ambitious shake-up comes in the form of the overhaul Boots is undertaking in its stores and brand partnerships.
"We are a huge player in beauty but almost by mistake because we don't give the same excitement to the customer yet that we think we could," says James.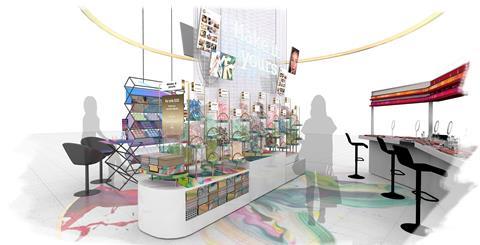 In a bid to address this contradiction, the health and beauty retailer is refitting 24 of its biggest beauty halls next month, removing branded beauty counters in favour of "trending zones, discovery areas, and live demonstration areas", designed to allow shoppers to better browse and play with products.
"We've lost, in the last couple of years, a lot of relevance in beauty for our customers and that's because we have a slightly old-fashioned approach of having big brands in with their big displays and we are now moving to something much more flexible," he says.
These vamped up beauty halls will be staffed by 200 newly hired beauty specialists, who will receive specialised training to offer shoppers brand-agnostic advice on products.
"Some beauty brands said very frankly that 'before I think about going into your stores you have to buck up a bit'"

Seb James, Boots
But good staff can only get any store so far, which is why James has made strengthening Boots' brand portfolio a top priority since joining the business last January.
The retailer will introduce 20 new brands to its stores in the next six months including cult favourites Nip & Fab, Becca and Bondi Sands – a stark uplift from one new brand launch every 12 months, which has been the standard at Boots in previous years.
When asked how he has wooed so many beauty brands, when there is the lure of online and direct to consumer channels, to be stocked on Boots' shelves, James is forthright.
"It's not been easy, but I think for the first time in a while they can see we are properly investing in beauty," he says.
"I've been introduced to a load of bosses from these beauty companies and they are, very rightly, careful about their brand. Some of them said very frankly that 'before I think about going into your stores you have to buck up a bit.'"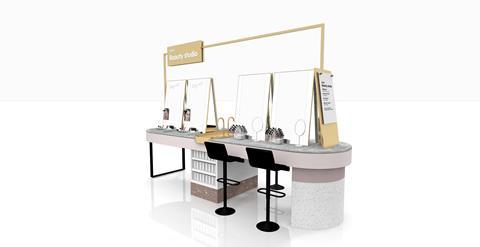 The retailer is doing just that with four of its stores across the UK, including its Covent Garden flagship, which are undergoing complete refurbishments before being unveiled in the summer. Each store will have a different look and feel.
"We are having a go at every format – there will be lots wrong with it but we'll have real fun with it," says James, adding that once the retailer has "worked out what works and what doesn't, we'll roll out from there".
"What we want to try to do is get a real re-evaluation of beauty in the minds of our customers and suppliers, which is that Boots can be surprising and new," he explains.
"We want a shopper to know that when they go to a new store or online they will get an experience which is materially different, and better. We have tended to be a bit one-size-fits-all, so I want to differentiate our proposition whether you are buying a face cream or a haemorrhoid cream."
YouTube videos and healthcare algorithms
It is testament to the rate of upheaval in how shoppers find and buy beauty products today that Boots' refurbished Covent Garden branch will have a YouTube studio where makeover videos can be filmed in-store and posted to social media.
But James says he also wants Boots to be at the forefront of the big shifts in consumer spending habits across health and wellness categories.
He believes there is a real opportunity to use customer data to develop a healthcare algorithm that could be used to assess a customer's wellness needs, which "could have an extraordinary impact".
He is also confident Boots is better placed than most to exploit this trend due to the swathes of customer data at its disposal through its loyalty scheme.
"Running a retail business efficiently is no longer a voluntary thing to do"

Seb James, Boots
"We can infer pretty much everything about you, including what you worry about, from your purchase behaviour, but we don't do that at the moment," he says.
"If we did it well, we could actually end up building a bag for you that was really suited to your needs."
However, James approaches some of the more extreme and invasive trends in the wellness market with a healthy dose on cynicism.
"We are at a curious stage with health where there is a huge amount of technology being presented whose current impact is almost zero but whose future impact might be gigantic and we don't know yet who the winners are going to be," he says.
"There's no doubt that healthcare and wellness will be much more underpinned by technology. It's a while away, but we need to be sure we are ready and at the forefront of that technology development."
Making efficiencies
It's apparent from speaking to James that his enthusiasm and ambition for Boots and all it could be are boundless.
But how does he balance the scale of his plans with the backdrop that WBA has pledged to cut costs to the tune of £800m over the next three years across the group, starting with up to 350 jobs being axed at Boots' Nottingham head office?
"I don't think they are trade-offs. Running a retail business efficiently is no longer a voluntary thing to do," he says.
"Historically, one of the things about Boots is it's a lovely company with lots of lovely people. The shadow of that is that they like to agree, and we have tended to be rather slow as a result.
"There are two elements of our restructuring. One is that, of course, we have to make it more efficient but the second is we have to become quicker. Having fewer layers, levels of decision making, meetings, is going to be a very critical part of whether we are successful in the next few years."
But with bold plans to make 170-year-old Boots a health and beauty retailer fit for the YouTube generation, James has success in his sights.
Retail Week Live 2019
Seb James will be speaking at Retail Week Live on March 27, at London's InterContinental O2 hotel.
To check out the packed programme, and book your tickets, click here.