TV chef Heston Blumenthal has designed an exclusive range of glasses influenced by his unqiue style which launch in Vision Express today.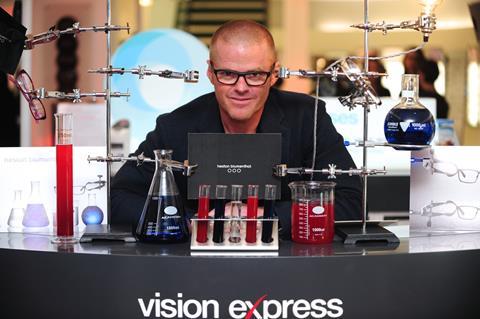 The new Heston Blumenthal range is made up of 36 frames for men and women and feature bevelled edges and curved frames.
The range is available across all of the retailer's 326 UK stores from today and prices begin at £179.
Blumenthal's range follows a bespoke line by spectacles designer Tom Davies for Vision Express which launched in September.
Vision Express chief executive Jonathan Lawson said: "We have for some time launched excusive brands and we're always looking to differentiate ourselves in terms of product.
"I think we've made it clear that we've done a lot of work to improve the value we offer and we want to distinguish ourselves through the range."
Blumenthal, who owns the three-Michelin starred restuarant The Fat Duck, said: "Having been a spectacle wearer for years I am acutely aware of the importance of quality eye care.
"Like great food, great eyewear is the result of meticulous attention to detail and a commitment to making a product that surpasses expectation, where every millimetre needs careful consideration."