The Northwest-based upmarket grocer enjoys a dedicated following but reports of a sale highlight the intense competition and uncertainty in the grocery sector.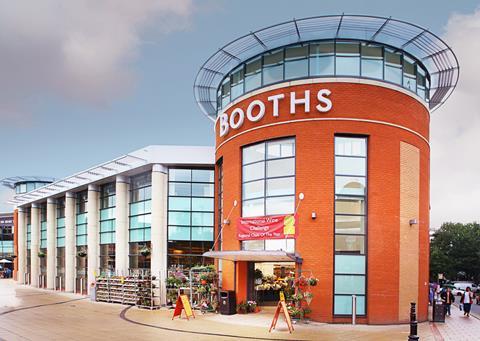 Strengths
Strong regional presence
Booths has established a strong presence and loyal customer base within Northwest England and has successfully differentiated itself through a firm commitment to offering high quality, locally sourced products and high service levels.
Stance in tune with the times
As local sourcing and the provenance of food continue to rise up the consumer agenda, Booths is definitely in tune with the times.
Store design
As Booths is relatively small and has grown organically, it is able to individually design its stores and tailor these to each location. Therefore, its stores do not appear formulaic.
Vertical integration
Booths has its own processing and packing facilities for products such as tea, coffee and spices, and has created more vertical integration through the acquisition of Sharrocks – a local wholesale fruit and vegetable supplier.
Weaknesses
Loss of family ownership and management
As a family-owned and run company, Booths has been able to develop its business outside of the constraints of the City. However, with the retailer being put up for sale in late 2017, the appeal of its resilient and family-focused business model will no longer drive brand loyalty.
Sales trends
Booths has not been shielded from the structural changes taking place in the grocery sector and its like-for-like sales have come under pressure in recent years.
Scale
Due to its size, Booths has found it difficult to achieve economies of scale in buying. Its margins are likely to remain under pressure in the short term now that it has decided to compete head on with the major grocers through its Price Match scheme.
Financial difficulties
The retailer suffered a pre-tax loss of £6.5m in 2015/16 while group sales declined. This triggered a financial review from July 2017, with the retailer being put up for sale in November 2017. Its 2016/17 results are expected to highlight the extent of the problems when they are filed at Companies House in the coming weeks.
Opportunities
Commitment to local sourcing
Booths is committed to sourcing products from the counties it serves. By retaining this traditional approach to retailing and supporting local communities, Booths is able to offer customers greater choice while reinforcing its local identity, thus differentiating itself from the major multiples.
In-store catering
In-store cafés provide customers with the opportunity to sample food that can then be purchased in-store. In the new Booths Café format, some 95% of food sold is available for purchase within the stores. Hot food counters are being introduced at smaller stores that are unable to accommodate a café.
Geographic expansion
Management had indicated that longer-term it could consider expanding beyond its Northern heartland, for instance to locations around Manchester, Derbyshire and towns on the Yorkshire/Lancashire borders.
Cash injection?
While no details have yet emerged about potential bids for the grocer after it was put up for sale, an injection of capital from the right investors could provide Booths with the impetus to capitalise on its strong regional following and build on its USPs.
Online
Even though Booths has ruled out the launch of a full online offer, a comprehensive range of Booths products has become available online via Amazon Fresh. Customers in more than 300 postcodes across London, Surrey, Hampshire, Bedfordshire and Hertfordshire will have access to the range. This initiative could help drive sales and provides a low-cost way for Booths to extend its reach.
Threats
Grocery sector
The structural changes taking place in the grocery sector at present have seriously impacted Booths. As a regional player, it is difficult for Booths to compete on price against the major grocers.
It also lacks a year-round online delivery service and is therefore unable to take advantage of this growth market. Meanwhile, the vote for Brexit has raised the level of uncertainty about the direction of the UK economy.
While Booths' clearly-differentiated concept had enabled the company to largely compensate for its lack of scale in the past, the expansion of Waitrose across Northern England is likely to have contributed to slower sales growth of late.
An additional threat could be the potential launch of its smaller format – Little Waitrose – into the smaller towns that are currently favoured by Booths.
Change of ownership
A lack of stability as the grocer shifts from its long history of being a family-run business could threaten its short-term performance and customer loyalty.
The analysis was compiled by Retail Week Prospect, an intelligence service offering insight and analysis on the UK's retailers.