Sainsbury's has reported a decline in profit as it "battles inflation" for customers, although its sales have edged up.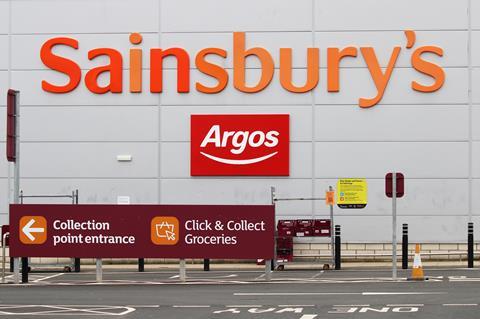 The supermarket reported underlying profit before tax of £690m, down 5% and at the top end of the £630m to £690m guidance range.
Group sales were up 5.4% in the 52 weeks ending March 4, while group revenue increased by 5.3%.
Retail sales including fuel increased by 5.2% and grocery sales were up 3%. Clothing declined by 3% and general merchandise was down by 0.4%.
Sainsbury's has been committed to keeping prices lower for customers, investing £560m over two years, and recently launched Nectar Prices to help shoppers save.
The group says its Food First strategy has given it "financial flexibility" to make the right decisions and it is starting the new financial year "with great momentum".
Sainsbury's now expects underlying profit before tax to be between £640m and £700m in the new financial year.
Chief executive Simon Roberts said: "We really get how tough life is for so many households right now, which is why we are absolutely determined to battle inflation for our customers. Our focus on value has never been greater and we have spent over £560m keeping our prices low over the last two years.
"As a result, we are now the best value compared to our competitors that we have been in many years and we are delivering improved market share performance in Sainsbury's and Argos.
"We are two years into our plan to put food back at the heart of Sainsbury's and have focused our efforts on reducing costs right across the business, which has enabled us to make the right decisions for our colleagues and customers.
"At the same time, we have improved the performance and profitability of Argos, Tu, Nectar and Financial Services so that we can invest further in the areas that customers and colleagues care about most.
"Our colleagues do a fantastic job serving our customers every day and we know that they are also dealing with the impact of the rising cost of living. That's why, over the last 12 months, we took the decision to invest £225m in supporting colleagues, including raising colleague pay three times, becoming the first major supermarket to pay our people the Living Wage across the whole country and providing free food at work and increased colleague discount.
"The results we have achieved this year are testament to the outstanding contribution across our entire team. I want to thank every one of my colleagues for their dedication and hard work.
"We continue to work closely with our suppliers and farmers, and I am grateful for their support in what has been another difficult year for food supply chains.
"We know just how vital the agriculture industry is, not only to Sainsbury's but to the country as a whole, and this is why we have made the choice to give £66m of additional support to British farmers over the last year."
Get the latest grocery news and analysis straight to your inbox – sign up for our weekly newsletter