The new Sainsbury's in Selly Oak has all the hallmarks of a department store, but does this mean it is one? John Ryan finds out.
When does a store become a department store? The answer is probably beguilingly simple: when there is an enterprise that has multiple departments covering a very wide range of categories and which is the outcome of judicious curating of the possible options in each category.
Or put another way, when a store has fashion, homewares, beauty, technology and, in the normal run of things, cafés and restaurants.
This does not have to mean a multi-floor affair – although it can frequently be the case – and if you head to Germany or France, a lot of department stores are also food stores with provisions normally being located in the basement.
All of which means the term is a broad one – and a visit to the new Sainsbury's store in Birmingham's Selly Oak might lead the uninformed to the conclusion that what they are looking at is, in many ways, a department store with a very large food component.
Yet Darren Sinclair, managing director for Sainsbury's Central region, including London, is quick to dispel any such misconception: "We are a food business," he has said repeatedly, in mantra-like fashion.
The 67,000 sq ft leviathan, which has taken nearly 10 years from initial idea to welcoming shoppers through its doors, does indeed have food, with Sinclair pointing out that around 60% of the available space is devoted to this.
A supermarket then? Well, perhaps, but arriving at the top of the travellator that whisks shoppers up from the car park beneath the store, the shopper might be forgiven for thinking otherwise.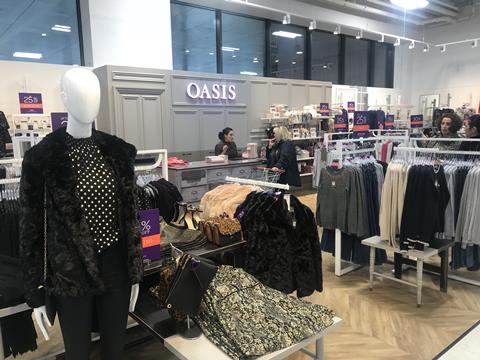 Directly ahead is a shop-in-shop by Oasis, the first of its kind in a Sainsbury's store. This measures 1,200 sq ft, putting it in line with many Oasis standalone stores. Standing in front of this one, it looks remarkably like one of the retailer's high street outposts, just without a ceiling. From the grey fixtures and wall panelling to the pink neon flying ducks next to the fitting rooms, this is very definitely a branded in-store department of the kind that would be called a concession in a department store.
Moving beyond this, there is Sainsbury's private-label fashion in the shape of a large area carved out for Tu. The fitting rooms for this one are disguised, to an extent, by garments hung along the external walls, but for all the world this part of the store looks and feels like a piece of the mid-market high street fashion scene.
At the far left-hand side of the store, there is a toy department with a mid-shop Twister game and a series of Chad Valley toys, courtesy of Argos – a fact made clear by an in-department screen bearing the Sainsbury's-owned subsidiary's name.
Which is rather the point. What has been done in many parts of this store is to take the Argos offer out from behind the counter to create discrete shop-in-shops. This means the 'tech' area, along the left-hand end of the rear perimeter wall, is a fully functioning store that would not necessarily be put to shame by a John Lewis space covering the same category.
This does not mean there is no dedicated Argos shop in the store. Located next to tech, the Argos space has everything that would be expected of a high street standalone, from the tables with white tablets for browsing to the service counter. As in other Sainsbury's stores across the country, there is a mini-Habitat, bringing home design to this part of the West Midlands.
But what about the food, accounting for 60% of the selling space? By Sainsbury's standards, this is a more conventional iteration with much that is familiar, starting with 'fresh' and moving on to ambient produce and culminating in alcohol. But even here there are radical differences from the grocer's norm. Working with design consultancy Twelve Studio, the food proposition is peppered with areas that break with the supermarket standard, with beauty and wellness being prime among these.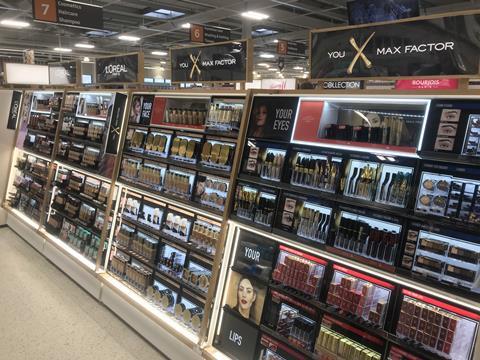 The former occupies a large area in the middle of the store's food space and a combination of conventional gondolas, back-lit and adorned with a light wood frame lend a glamour that Superdrug – also on the retail park in which this new Sainsbury's is situated – does not match. There is an equity of brand presentation in the beauty space with each name, from L'Oreal to Revlon, given more or less the same space and all signage being the same size. The message is that this is a Sainsbury's beauty department, rather than a series of branded fixtures owned by each brand – a branded house, not a house of brands (which is a department store line of thinking).
Wellness is one of those tricky areas that can mean anything from a couple of hippies with dubious potions in a Kilner jar, to a quasi-medical operation where all of the products are treated as remedies and customers are given advice by white-coated types. In Sainsbury's Selly Oak, the term translates as a single aisle with a series of health-based options, from pills to sports drinks. Wellness is what you make it and in this instance, there is a bit of the grab-and-go about the offer, with the world of the self-serve pharmacy not far away.
And so to the checkouts, which comprise 12 manned tills, a bank of self-serve tills and a few 'SmartShop checkouts' – allowing customers to scan their shopping on handheld devices as they fill their baskets – which were conspicuous for not being used.
The real highlight in this part of the shop, however, lies immediately beyond the payment area and is called the Food Market. The name belies the fact that this is a 180-seater café-cum-restaurant, which has a number of elements on trial. The Little India Kitchen and Wok Street are self-explanatory, with the Fresh Kitchen and Coffee Bar also telling their own clear stories.
It is the seating that really sets this one apart, however. More than half of the tables are contained within booths, lending an air of quiet and private space to what might be a busy conclusion to many shoppers' journeys. The point perhaps is that it looks less of an afterthought than most supermarket cafés and more the sort of place you might actually want to spend time in. Again, this puts it firmly in John Lewis The Place To Eat territory.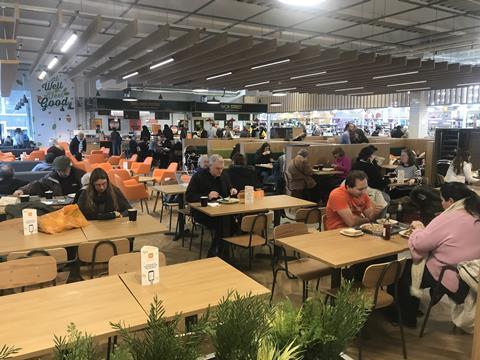 So is this a department store or a supermarket with additional and complementary pieces added on? The truth is that it could be either and it will be at the whim of the shopper to decide. Yes, this is a food business, but it is equally a place to spend time while you decide on what you'd like to put in your home to make it look better, or perhaps while you ponder which presents to buy for toy-hungry children.
What is beyond doubt is that this is a departure from what most people might consider a supermarket to be – and the comparison with mid-market Continental department stores is a valid one.
It is also an "experiment", according to Sinclair. The real question is whether it stands up as a format in its own right and whether we are likely to see more 'department store supermarkets'. On the evidence of Selly Oak, we probably will.

John Ryan is managing director of Newstores