July was the first time the amount spent in food stores fell year on year since records began in 1989 as the grocery price war escalates.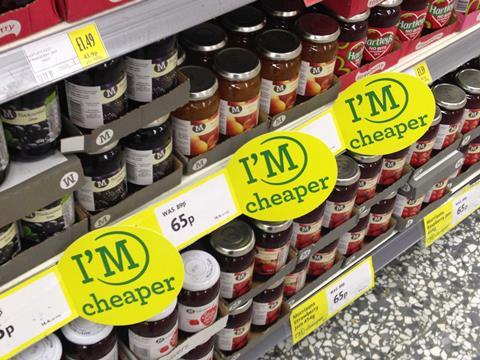 Sales values in food stores fell 1.3% year on year last month, according to the latest figures from the Office of National Statistics.
Keith Richardson, managing director of the retail sector at Lloyds Bank Commercial Banking, said: "Grocery retailers are in the midst of a price war with everyday low prices being the main strategy for both mainstream and discount operators. While this approach has benefited consumers, the reduction in the value of goods sold will continue to have a detrimental impact on total retail sales during the forthcoming months.
"England's early exit from the World Cup also deprived the grocery sector of a much needed fillip."
Across the entire retail industry, sales values increased 1.7% year on year over the month but dipped 0.1% compared with June.
Sales volumes jumped 2.6% in July year on year, edging up 0.1% month on month. On a three month basis, sales volumes have risen for 17 consecutive months, the longest period of sustained growth since November 2007.
The average prices of goods sold in July dipped 0.9% year on year. Food stores were the only sector to show an increase in prices (0.2%).
The amount spent online jumped 11.2% year on year but fell 1.9% compared to June.
Richardson said: "A second successive month of weak sales figures will cause concern throughout the sector. Retailers will hope the slowdown in sales is a temporary blip rather than a prolonged decline in consumer confidence.