From breathtaking windows to immersive in-store experiences, Retail Week rounds up the retailers giving shoppers the ultimate Christmas experience.
Fortnum & Mason, Piccadilly
It may be predictable but there's no denying that Fortnum's is a Christmas wonderland.
This year the department store has excelled itself. The frontage of its famous Piccadilly flagship has been transformed into a giant advent calendar with animatronic cats making different gifts at each window.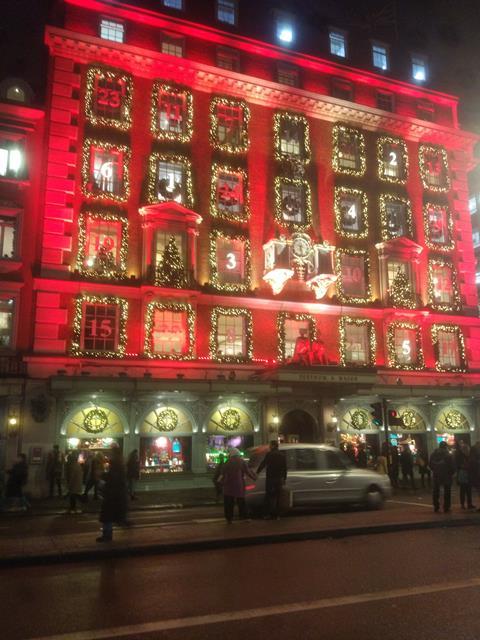 When Retail Week visited, it was hard to get close to the window due to the hordes of tourists taking photos outside.
But it's not just the Christmas window that makes Fortnum's a must-visit for those snapping up festive gifts. The department store has created a store full of luxury gifts for lovers of everything from coffee to chocolate and truffles to tea.
Its food hall has everything that shoppers could want to add a little luxury to their Christmas lunch, while plaudits must be given to the department store's buying department, which has created an astonishing amount of Fortnum's branded Christmas paraphernalia that include miniature tea tins and teapot tree decorations and Fortnum's branded advent calendars.
Meanwhile, its iconic Christmas hampers take centre stage throughout the store – and Fortnum's has gone digital, giving shoppers the option to build their perfect hamper via digital screens.
PwC UK experience centre leader Tom Adams says: "Retail experiences at Christmas are about reminding us, and reinventing, what Christmas means. The mission is about conjuring up the magic of Christmas.
"If you're looking for an explosion of Dickensian narrative, Fortnum's window is an expression of that.
"They're reminding us what Christmas means and giving ways to take a little bit of that home with us that make us feel that we're creating some magic supported by our favourite retail brand."
Fenwick, Newcastle
It's not just the capital that can create an unforgettable department store Christmas experience. Shoppers in Newcastle will testify that the season doesn't truly begin until Fenwick's festive window is unveiled.
Thousands gather for the big reveal which this year was inspired by Charlie and The Chocolate Factory. Fake snow fell from the department store roof as it opened the curtains on candy-coloured windows that illustrate scenes from Dahl's story such as Charlie discovering his golden ticket, to juicing rooms and chocolate waterfalls and the chocolate factory's famous glass elevator.
Carl Milton, store director at Fenwick's Newcastle branch, says the window creates "child-in-a-chocolate-factory excitement".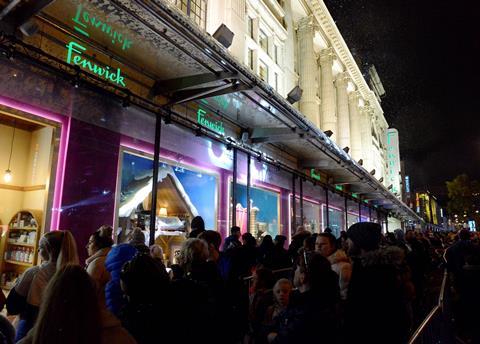 Tying in with the window, the department store has launched a number of special edition products such as a Willy Wonka bear, decorative mugs and baubles and Charlie and the Chocolate Factory book.
The store has also created a 'Santa on the Rooftop' experience with wooden log cabins, singing reindeers, an elves workshop as well as Santa in his Grotto. Children can participate in biscuit making and help the elves make and wrap toys.
The rooftop also has a cinema the shows screenings of the 1971 film Willy Wonka & The Chocolate Factory and 2005's Charlie and the Chocolate Factory, as well as favourite festive films.
Graham Soult, founder of retail consultancy Canny Insights, says: "Many retailers don't do a lot with their windows at Christmas. Fenwick's stands out because it's such a spectacle. It's become such a thing that people travel into town for."
Tiffany & Co, Covent Garden
Christmas and ice rinks go hand in hand, and jeweller Tiffany & Co has partnered with perfume maker Coty to transform Covent Garden piazza into a giant ice rink unlike no other.
The ice rink, which is free to enter, is designed to promote the pair's newly launched fragrance and is peppered with festive décor from its Christmas campaign.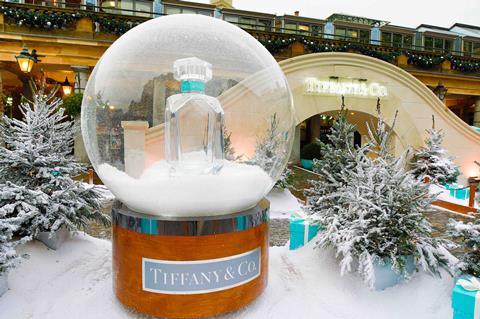 Inspired by Tiffany's New York home, visitors enter the ice rink via a Tiffany & Co bridge reminiscent of Central Park. They will find oversized blue jewellery boxes and a four-foot-tall bottle of Tiffany perfume inside a snowglobe.
Tiffany's Eau de Parfum is diffused around the area at regular intervals throughout the day.
The Tiffany store next to the rink sells shoppers bottles of the fragrance and has services including gift wrapping and complimentary laser engraving on bottles.
Adams says: "Covent Garden ice rink is a multi-sensory winter experience that helps tell a Christmas story around Tiffany's".
Lush, Liverpool
Lush has transformed its Liverpool flagship into "the ultimate gifting experience" for Christmas.
A whole floor is dedicated to its new 'Christmas gift concept shop', which features a gingerbread house, rocking horses and candy canes and is peppered with festive gifts aplenty. Wintry drinks are also available at its new in-store café to help people get into the Christmas spirit.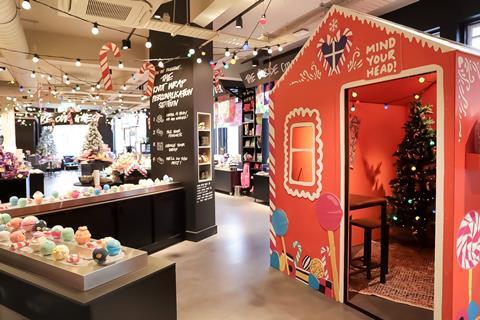 Lush, a long-time pioneer of sustainable retail, has created many products to help people reduce waste this Christmas, something that many consumers seem keen to do.
Shoppers can pick and mix their favourite products and then have them wrapped using a personalised version of Lush's reusable knot wraps. They can also create personalised gift tags made from recyclable materials.
The retailer has also launched packaging and label-free gifts. Shoppers scan the products with the Lush Lens feature on the Lush Labs app to find out what the products are.
Hotel Chocolat
Christmas is a time for over-indulgence and for Chocolate lovers, Hotel Chocolat has become the place to go.
The retailer has festive products aplenty from advent calendars to wreaths and hampers,and has curated them to make it simple to find the perfect gift based on people's tastes. It also offers experiences such as chocolate marking and "tasting adventures".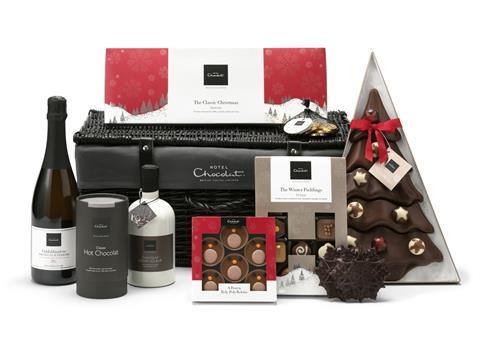 Hotel Chocolat has tried to make gift finding as easy as possible, both in its stores and online. It makes much of its expert advice and has introduced sampling centres, encouraging shoppers to taste their prospective presents. In-store it has gift finder tools and shoppers can search across a range of categories including unique gifts, stocking fillers, secret santas or tree decorations.
Hotel Chocolat marketing director Lynne Ormrod says: "At Christmas people come to us not only for our brilliant product but because of the advice that we can give them in our retail stores - we really encourage sampling product - and through the online tools we have to help them find the perfect gift for their loved ones.
"We make sure we can cater for all kinds of gifting from really fun stocking filler items such as our Jolly characters and Roly Poly Penguin, all the way up to special products like hampers. We give customers a lot of opportunity to personalise those gifts and we offer sleeves they can put on any product to make them more Christmassy."
"We try to group our products in a way that makes it really easy for customers to find what they want. We don't want them to feel overwhelmed."
Much like Fortnums, Hotel Chocolat is becoming a place shoppers go for hampers and shoppers are able to build the perfect selection of products for chocolate lovers.
Hotel Chocolat, which started life as an online retail, has made it easy for customers to shop across channels. It offers click-and-collect to make it as convenient as possible and organised shoppers can set their delivery for the big day as far back as September. Customers can choose gift boxes and have personalised messages placed in them.
PwC retail industry leader Lisa Hooker says: "It's not just big department stores that provide a great Christmas experience. Some smaller brands do great seasonal visual merchandising, dedicated gifting and provide convenience through order in store and click-and-collect to emailing gift received.
"A lot of tactical things make a big difference to shoppers at Christmas. As a working mum, it's about making it as easy as possible so there's good curation that makes it easy to find presents and there's lots of different ways to buy and collect."
Notonthehighstreet.com
It's not just stores that can create memorable Christmas experiences, online can also deliver on that front.
Notonthehighstreet.com has established itself as a destination for gifting. With designated sections to find gifts for her, him and for stocking fillers or secret santa.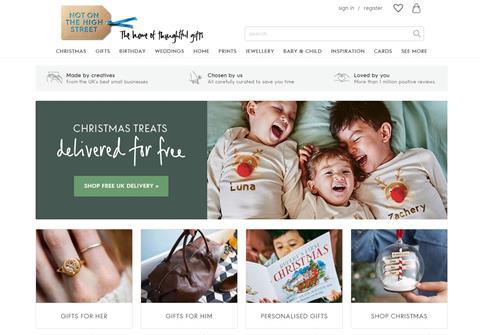 The retailer's network of artisan sellers make it a great place to find unique gifts and it has a wealth of personalisation options to make gifts that are extra special.
Hooker says: "Notonthehighstreet offers more thoughtful gifting, that you can personalise. You're dealing with independents so can find gifts that are unique and less mass market. This Christmas we've seen a move towards more sustainable gifting and I think Notonthehighstreet does that well."
Notonthehighstreet has launched a series of pop-up stores to give shoppers a place to find and personalise gifts in the physical world. It opened a store in Waterloo for two weeks in early November, while its London Bridge shop is open until December 21.