The off-price retailer with an enviably agile business model, TK Maxx owner TJX Companies has just reported a 3% hike in net sales for Q1 and raised its full-year profit forecast. Our Retail Week analysts break down five ways the retailer is keeping up with demand and making the most of shoppers' bargain-hunting missions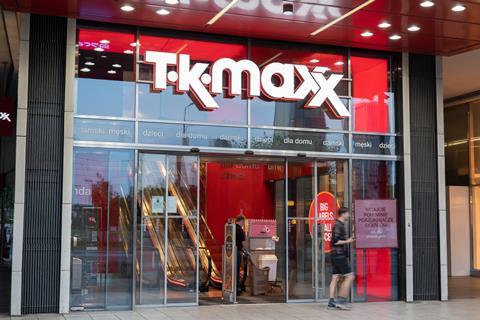 1. Value-ingrained agile business model
TK Maxx stands out for its opportunistic-buying business model through which it sells most its "big brands and designer labels" at "small prices" of up to 60% less than RRP.
By pouncing on situations such as designers overproducing, retailers overbuying, orders being cancelled or vendors looking to clear merchandise, TK Maxx negotiates low prices, passing savings on to consumers.
It buys throughout the year instead of seasonally and – although most products are procured on an opportunistic basis – adjustments for emerging trends, its own-brand products and licensed brands are used to fill gaps where it can't find certain items in the market at the value it wants.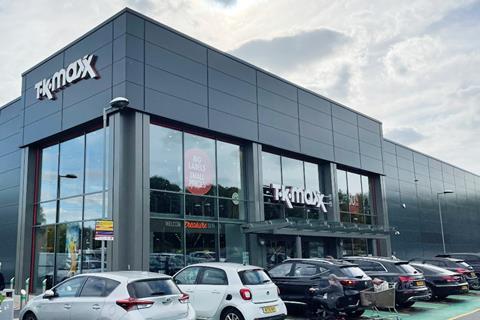 In an unpredictable retail environment when 'value' is an increasingly fierce battleground, TK Maxx's flexible model is an advantage. It allows it to offer an eclectic mix of products and designers that come together in a treasure hunt-esque shopping experience that delights its fans.
However, its propensity for offering one-off items, combined with variable volumes of products and sizes, as well as a lack of replenishment items held in stockrooms, may not endear it to shoppers who prefer more predictability.
2. Flexible stores and an expanding reach
TK Maxx's flexibility extends to its stores, which it describes as bright, modern and "no frills". A lack of walls separating departments allows for easy expansion and contraction of product categories depending on stock influx while also helping with operational cost savings.
However, rails and shelves of one-off items and various designers arguably create a busy environment, with bargain hunters needing to be prepared to rummage. More in tune with shoppers keen to unearth a hidden gem at an unrivalled price over a frictionless shopping experience, TK Maxx boldly embraces and openly advertises this treasure-hunt experience.
Expansion has slowed more recently, but the retailer continues to build on its strong representation across the UK through new store openings, modernisation and relocations. Its recently opened slick new store in Swindon spans two floors and, as well as selling fashion, beauty and home, also houses a cafe.

However, there's still room to ramp up modernisation efforts, with some older stores in need of an overhaul.
Further store openings are on the cards, including a megastore at the Atria Watford shopping centre this summer in a unit previously occupied by Next spanning 30,557 sq ft across three floors.
TK Maxx is also reportedly searching for more London sites. The expansion programme could see more smaller-format branches opening as the retailer is said to be looking for premises of 10,000 sq ft to 30,000 sq ft.   
Speedy expansion has taken the overall UK network to around 430 stores – 350 or so trading under the well-established TK Maxx fascia and a further 75 as the more recently developed Homesense homeware brand.
3. Potential for online growth
TK Maxx has a rudimentary online offer with sales through tkmaxx.com representing less than 6% of net sales at TJX International, which includes TK Maxx, for 2019/20, 2020/21 and 2021/22 respectively.
The treasure-hunt shopping experience of its stores is arguably hard to recreate online, but the website's lean design stays true to the in-store set-up with the 'Today's Arrivals' section highlighting the speedy turnover of merchandise.
However, as is the case in store, sizing options are limited and stock volumes vary, which may not translate online where the physical act of rummaging for a hidden gen cannot be recreated, risking leaving consumers frustrated with a lack of availability.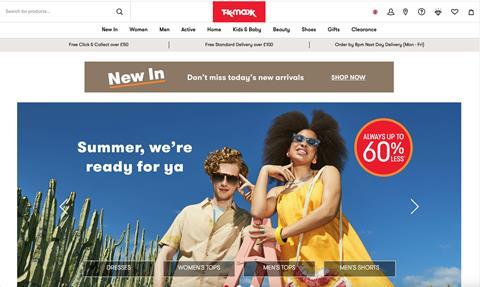 Where this occurs, TK Maxx would do well to apply its in-store approach online, working with suppliers to use in-house and licensed limited-edition brand products to fill gaps in its assortment.
Low consumer awareness of the website also appears to be an issue, with its latest advertising campaign depicting people's shock at discovering that TK Maxx has a website and "even does click and collect" – a service that was introduced to all UK stores in 2017/18.
TK Maxx will benefit from building its online presence into a channel that will help fortify its omnichannel business model with a robust infrastructure and an ecosystem that will keep consumers coming back, particularly within the highly competitive fashion and homewares markets.
4. Extending product offer and evolving proposition
TK Maxx's off-price, opportunistic buying model sets it apart, but its USP risks being eroded as other retailers grow their discount offer and shift supply chain models to meet the needs of value-seeking consumers.
Savvy partnerships could also extend its reach, by using the plethora of brand and designer names it stocks to establish marketing-friendly partnerships, helping build brand awareness.
Additionally, while it is working towards a target of net-zero greenhouse gas emissions by 2030, TK Maxx could further endear itself to shoppers by making more noise about its sustainability credentials, focusing on its sourcing of products that are no longer needed for their original purpose and thereby reducing fashion waste.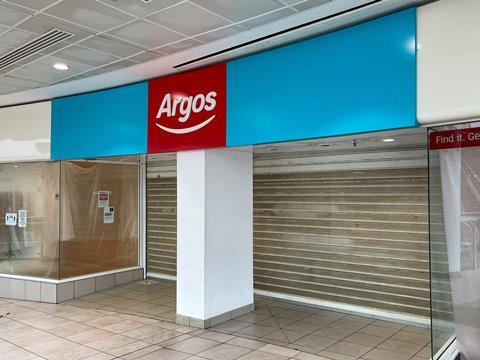 There's an opportunity in influencer relationships too, particularly for its beauty offering where there is real growth potential. Recent media coverage has pegged TK Maxx as a destination for beauty fans to snap up a raft of cult new beauty and haircare brands at value prices, including Elf, Kylie Cosmetics and influencer Molly-Mae Hague's fake tan brand.
Its homewares and electronics sections could help TK Maxx win some shoppers from Primark, with the discount fashion retailer having recently hailed the growth of its homewares department.
There's also an opportunity to boost toy sales in locations where standalone Argos stores have been shuttered.
5. Stores rebound drives sales recovery
The TJX UK subsidiary, comprising TK Maxx and Homesense, reported a strong recovery in its most recently filed Companies House results after having been significantly impacted by the pandemic the previous year due to its heavy reliance on its store estate.
Total UK sales had fallen 34.6% to £2.3bn in 2020/21, while retail sales decreased 37.4% to £1.6bn. However, as stores were able to open for more of the year, its performance recovered in 2021/22 with overall UK sales rising 45.2% to £3.3bn for the year to the end of January 2022, while UK retail sales soared 55% to £2.4bn.
The TJX UK subsidiary has yet to file for 2022/23, but sales at the International division of TJX, which includes TK Maxx, grew 8% for the year ending January 28, 2023.
Sales in the apparel businesses were robust, but "softer" in its home businesses following the sharp growth as people focused on purchases for their homes during the pandemic. TJX International posted a 4% uptick in store sales for the first quarter of the current financial year.
Prospect expects sales at TJX UK to continue to grow over the next few years, benefiting from shoppers seeking more individual items with an appealing brand name, but at single-digit rates as shoppers rein in fashion and homewares spend while other costs remain high.
TK Maxx's lean stores and efforts to optimise its distribution network to run with little overheads means it operates with a significantly reduced cost structure compared with many traditional retailers.
While the impact of lockdown periods on sales saw TJX UK swing to a loss at operating and pre-tax levels in 2020/21, it was back in the black as sales picked up in 2021/22, recording pre-tax profits of £14.4m with a margin of 0.4%.
Total sales at parent company TJX grew 3% to $49.9bn ($40.5bn) in 2022/23. It anticipates improved profitability too, expecting to grow its pre-tax profit margin, which was 9.3% in 2022/23, to between 10.3% and 10.5% for 2023/24.
The company remains confident in its agile business model within this dynamic and shifting market and, on announcing TJX Companies' full-year results for 2022/23, chief executive and president Ernie Herrman said that in the longer term he is confident the business is "on track to becoming an increasingly profitable $60bn-plus company".
Want to find out more about TK Maxx and our forecasts for growth?
A subscription to Retail Week Prospect gives you all the retail intelligence you need in one place about hundreds of retailers, including in-depth analysis of strategy, financials and company outlook.
If you'd like to discover how Retail Week Prospect can help you, please request a demo to find out more.