Dunnes Stores, one of the biggest general merchandise and food retailers in Ireland, enjoyed a bounce in performance over the festive period in its domestic market.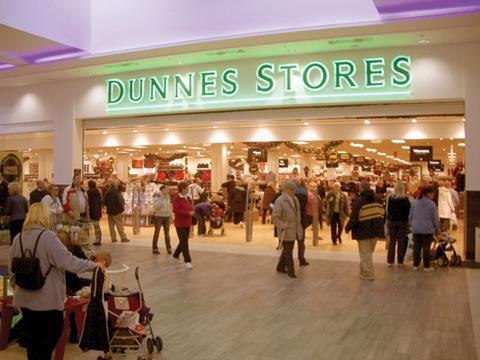 The general merchandise and food retailer increased its share of the Irish grocery market, from 23.9% to 24.3% in the 12 weeks to December 23, according to data from Kantar Worldpanel.
Kantar Worldpanel commercial director David Berry said: "The strong performance of Dunnes comes after a prolonged period of underperformance, with market share hitting a low point of 21.4% in September. The boost in share over Christmas has regained some of this lost ground and places the retailer in a more competitive position for 2013."
In recent years hard discounters and mainstream rivals including Aldi, SuperValu and Tesco have eaten into the retailer's sales and market share.
According to Kantar data, market share fell from 23.7% in June 2011 to 21.6% in August 2012.
As a result, Dunnes has been in danger of losing its second spot in the market to SuperValu and giving up ground to market leader Tesco.
However, while Tesco comfortably held the top spot over Christmas, with a market share of 27.8%, SuperValu's share dipped marginally to 19.5%.
Family owned Dunnes has 120 stores in the Republic of Ireland, 23 in Northern Ireland, 11 in Britain and it owns most of its properties, a significant strength of the retailer.
In the Republic of Ireland, Dunnes operates about 90 large stores - the biggest exceeding 100,000 sq ft - selling a combination of food, clothing, and homewares, merchandised in a similar way to Marks & Spencer. It also operates about 15 stores in the Republic of Ireland that sell clothing only, as well some grocery stores.
Dunnes also has five food stores in Spain.
The retailer has its own clothing label, St Bernard - akin to M&S's now defunct St Michael brand - and has started to introduce a number of sub-brands.
It has continued to add product range information to its website, raising speculation a transactional site is in the works.
Reports in 2011 suggested that an ecommerce venture in the Republic of Ireland was about to launch, though that has not been the case yet. A potential roadblock might be the retailer's lack of central distribution facilities.
Dunnes adopts a price-competitive stance and has several times initiated price wars that have waged in the Irish market since the 1980s. This remains the strategy, though in recent years it has become tougher for Dunnes because of the entry of Tesco and discounters Aldi and Lidl into the Republic of Ireland.
Outside Ireland, the retailer opened 11 stores in Britain in the 1980s selling clothing. The range was subsequently expanded to include homewares.
Its UK stores, including Northern Ireland, generated sales of £166.4m in the year to January 2012, though that was well below the group's peak of £231.3m in the year ending January 2005. Group turnover, which Dunnes is not obliged to report in the Republic of Ireland, reportedly totalled e3.8bn (£3.1bn) in the same period.
The retailer is headed by chief executive Margaret Heffernan, while her brother, Frank Dunne, is officially managing director, though he operates on a hands-off basis in the style of a company chairman.
The management team was strengthened in 2011 with the arrival of former Sainsbury's and Tesco clothing boss Richard Jones as director of textiles.
Andrew Skinner, former general merchandising director at M&S, joined in a consultancy role in July last year but is now buying and merchandising director.
Last month the retailer got into hot water when it was forced to pay e21m (£17.4m) by a court after an application to wind up the business was brought against it by now defunct developer Holtglen.
While that is now behind it, Dunnes faces a challenge in the increasingly competitive Irish grocery market as it struggles to hold on to its number two ranking.
UK results
UK sales for the year to January 2012£166.4m
UK sales change -6.5%
Number of UK employees 1,999
Group managing director Frank Dunne
Group chief executive Margaret Heffernan