Department store John Lewis sales surged 13.4% to £74.5m last week helped by "good retailing weather" as its second half gains momentum.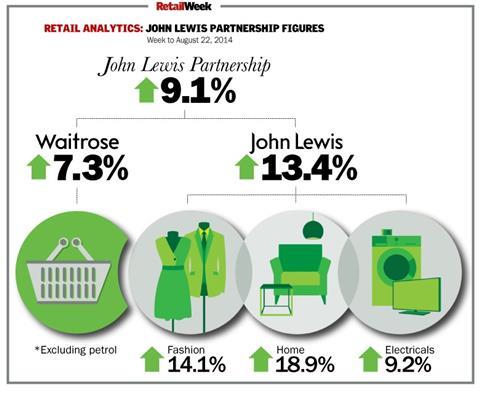 Online continued to trade strongly, up 31.4% in the week to August 16 boosted by a 40% uplift of in-store assisted transactions.
Home was the star performer, with sales up 18.9%. John Lewis director of selling David Barford said: "Our customers seem to be feeling increasingly confident in the housing market, with furniture performance continuing to be the most impressive. It's fantastic to see that our forward orders are also up 20%, suggesting that we can be hopeful that this trend will continue."
Fashion "stepped forward considerably" from last week, according to Barford, rising 14.1%. He said there was clear evidence that its customers are starting to shop for their autumn wardrobes. Back to school also had a "strong" performance, with shoes ahead of last year.
In electricals and home technology, tablets and computing sales rose with customers responding to its extended three-year warranty offer.
John Lewis said the first full week's trading from its new catering offer in Oxford Street, where it has opened new restaurants Ham Holy Burger and Rossopomodoro, was a highlight and was trading well ahead of last year.
Barford said: "With the bank holiday approaching and the 'good retailing weather' set to continue, there is every reason to be optimistic that we can achieve another strong week."
At John Lewis Partnership-owned Waitrose, sales excluding petrol jumped 7.3% over the week.
The grocer launched its 'Taste of Italy' showcase last Wednesday, offering 25% off a number of Italian products until September 2. Pizza sales rose 16% year on year while pasta was up by 15%, pasta sauces rose 24% and pesto increased 58%.
Italian cheeses performed well too, up by 33% overall compared with last year. Essential Waitrose Mascarpone was up 62% and Waitrose Taleggio cheese rocketed 146% on the previous year. Olives and antipasti were also up 69%.
Shoppers also stocked up on Italian wine, which surged 36% on the same week last year. Sparkling Italian wine increased by 68%, with Prosecco soaring 86%.
Campari sales were up 108%, while limoncello sales increased by 52% and Aperol was its best selling line in liqueurs and aperitifs.
The cooler weather also meant customers turned to warming food options as well as classic Italian dishes. Packet soups were up 16% year on year, with ready meals and hot beverages up by 14% and 15% respectively.