Pre-tax profit up 20.5%
Group revenues up 14.4%
Two more store openings planned in the US
Ted Baker has reported rising half-year profits and sales as it plans further international expansion despite "challenging trading conditions".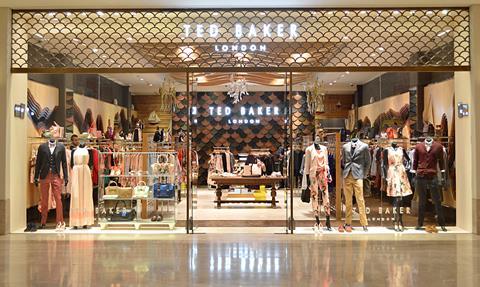 The fashion retailer said profits rose 20.5% to £21.5m in the 28 weeks to August 13, while total group revenues climbed 14.4%.
Retail sales in UK and Europe rose 8.5% to £131.2m in the period. A like-for-likes sales figure was not disclosed.
In North America retail sales jumped 28.7% to £51.1m, where the retailer is planning to open two new stores.
In Asia retail sales rose 15.8%.
Ted Baker's ecommerce sales also continued to grow at pace, up 29.7% during the period.
The retailer, which currently has 470 stores, concessions and outlets worldwide, also plans to open new stores and concessions across Canada, China, the UK, Europe and Asia, as well as opening licensee stores in countries including Azerbaijan and Egypt.
Founder and chief executive Ray Kelvin said: "Ted Baker continues to perform well across all distribution channels despite challenging trading conditions across our markets.
"Our continued growth and development reflects the strength of the Ted Baker brand, our business model and the skill, innovation and passion of our global teams.
"We remain firmly focused on the long-term development of the Ted Baker brand and are continuing to invest in our infrastructure and people to support the future growth of our business in both new and existing markets."