There is a lot to recommend Montreal as a destination, not least the retail provision that sets it apart from many other cities.
Perhaps unfairly sometimes referred to as 'New York on the cheap', Montreal comes second in a number of respects – not just in comparison to the Big Apple.
It is the second-largest city in Canada and is the world's second-biggest city that has French as its principal language.
It has a lot of retail that is worth looking at and a lot that is distinctly different from what might be found elsewhere.
From markets to a network of tunnels under the city centre linking the various shopping districts and major institutions (it gets cold here in winter), this is a city that few get round to visiting, but which has a lot to offer.
Almost every retail design outfit, in-house or agency gets to take a look at what's happening in New York, but Montreal is just over an hour away with multiple daily flights. Worth a side trip if you're heading for the east coast.
Jean Talon market, Little Italy
Markets are generally a sign of a vibrant city and in Montreal there are two major ones: Jean Talon and Atwater. The former occupies the same position as London's Borough Market. As such, the visitor might be forgiven for expecting the thronging masses and excellent, but pricey, fodder.
Jean Talon is in fact a market that operates like a market might have done back in the day when shoppers went to every day to pick up fresh seasonal meat, fish, fruit and veg. This is certainly a foodie destination but the prices are accessible and owing to its sheer size, most of which is undercover, the in-market competition ensures that some of the best food display in the city is on show. It's certainly better than the offer from Provigo – the Québec supermarket owned by Loblaws.
"Jean Talon is certainly a foodie destination, but the prices are accessible"
And as in most good markets, this is as much about leisure as shopping, with numerous dining options on offer, from an oyster bar to a coffee and Portuguese custard tart place. Retailers in search of what to do with peppers, chillies and charcuterie, as well as almost any other deli foodstuff you might care to mention, should make this a port of call when looking at how things might be in their stores.
La Case de Cousin Paul, Plateau Mont-Royal
Stores that offer single niche products are notoriously prone to appearing and then disappearing, but this one, which has its headquarters and most of its stores in France, is the exception to this generalisation. The product in question is light balls and the store is filled with glass tubes that sell strings of the things for use indoors and in the open air.
This might not sound like the sort of thing on which a healthy bank balance might be built, but with stores across France and in Spain, La Case de Cousin Paul is a proposition that seems to have found favour.
In Montreal, the store is located in the modish, arty Plateau Mont-Royal district and its modest size helps it to blend in perfectly with the independent retailers that predominate in the area. The interior is almost entirely neutral, owing to the brightly coloured nature of the stock.
Yet oddly, the only line that had sold out was strings of white balls that were billed as "Victimes de leur success" – suggesting Montreal folk have a certain restraint when it comes to keeping their homes and gardens lit.
Davids Tea, The Eaton Centre
Tea shops that shy away from the traditional porcelain and doily interior cliche seem increasingly en vogue and Davids Tea is a good example of the trend.
The major feature of this store is the tea wall behind the counter and in some ways it has more of the mass-market drugstore about it than a shop in which to buy tea.
"Tea is a burgeoning market and perhaps, unlike coffee, there is still considerable room for expansion"
The store layout is relatively straightforward with most of the action taking place around the perimeter, which consists of open-front wardrobe fixtures in dark wood and abstract graphics intended, presumably, to put you in the mood for a cuppa.
The mid-shop has low, freestanding display units with enough space between them to ensure that circulation isn't a problem. Overhead, white track lights and a white ceiling raft complete the picture.
On the day of visiting, in spite of this being a distinctly niche operation, the store was busy and the tills were ringing. Davids Tea is a Canadian operation, with outposts across the country, but it also has branches throughout New England, the mid-west and California. Tea is a burgeoning market and perhaps, unlike coffee, there is still considerable room for expansion.
Bath & Body Works, Eaton Centre
Founded in New Albany, Ohio, in 1990, Bath & Body Works is found across the US and Canada (and, curiously, Chile) and given its US heritage it is little surprise that at this time of year much effort is expended on making a link between the products and Halloween. This equates to a lot of pumpkins across the shop as well as the occasional perimeter graphic depicting a white sheet-style ghost.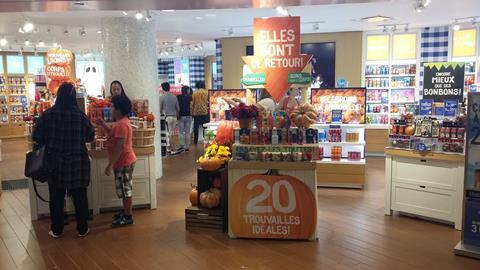 In the UK it is questionable whether smellies for the bath or bedroom would readily be associated with October 31, but in North America this sort of thing is almost a given.
Bath & Body Works complements its pumpkin displays with a blue and white chequerboard pattern on the walls and fake windows around the perimeter that have something of the pioneer wooden house (think Little House on the Prairie) about them.
Also worth noting is that while everything is written in French, this store has a distinctly US folksy feel to it – a long way removed from the boulevards.
Boulangerie Guillaume, Plateau Mont-Royal
Alongside the several big markets in Montreal, there are a large number of dedicated artisan food retailers and Boulangerie Guillaume is one of the city's best examples.
Located in Plateau Mont Royal, this is a shop that makes and sells bread of many different kinds.
If this were all, there might be something of a 'so what' about it, but it is the use that has been made of shiny metal in a variety of shapes to create the interior landscape that sets this one apart from workaday bakers.
This must also be a good instance of that axiom that shoppers 'eat with their eyes' as the simple display in tiered trays behind the counter means that the focus is entirely on the product with the metal surround complementing, rather than distracting attention from it.
The store entrance has a courtyard with trees, plant pots and benches in it, in case the baked products need to be eaten immediately on exiting the store.