Cornish fashion brand Seasalt has announced the launch of a resale platform with sustainable pre-loved repair and resale specialist Reskinned.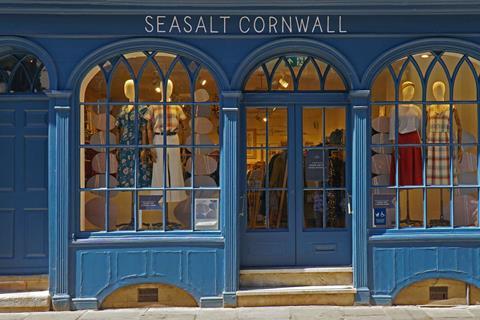 The online platform will allow Seasalt customers to buy pre-loved and repaired clothing that has been provided by customers for resale.
The introduction of the platform is the latest phase in the partnership, following Seasalt's launch of its take-back service with Reskinned in February, and more than 2,000 items have been received so far.
Customers can return preloved clothing in any condition to be rehomed or responsibly recycled and receive a voucher for money off their next purchase from Seasalt.
Clothing will be assessed using a grading service that will check for quality and condition. Items are chosen by the Reskinned team and cleaned with a zero-water process before being certified for resale.
Seasalt chief executive Paul Hayes said: "We've been overwhelmed by the incredible response from customers getting involved in the take-back initiative and are delighted to be able to launch the resale service so quickly.
"It's so important to us, as a business, to do what we can to encourage circularity in our industry and the success to date is testimony to the quality of our Seasalt product."
Reskinned co-founder Matt Hanrahan added: "At Reskinned, we're opening up the pre-loved market to new shoppers. We do this by making buying pre-loved as straightforward as buying new, through our high-quality product photography and 30-day returns policy.
"Within six months, Reskinned has developed a loyal customer base, with a 30% repurchase rate. Customers love what we do and our drop models work, with products generally selling through within three days and a returns rate that is significantly below industry norms."
Get the latest fashion news and analysis straight to your inbox – sign up for our weekly newsletter