Lord Wolfson deviated from the proverbial hymn sheet he'd been singing from for the past 18 months when Next last updated the market in January.
The retail veteran's trademark prudence made way for a hint of cautious optimism as Next nudged up its full-year profit guidance following a better-than-expected Christmas.
As a result, the City now expects the high street bellwether to deliver a 0.3% uptick in full-price sales and a profit of between £718m and £732m when its preliminary figures come under the microscope next week.
However, Next's plan, as well as its profits, will face increasing scrutiny from the market on results day.
Despite his sanguinity at the start of the year, Wolfson also warned that the business was "not in momentum territory".
"I don't think we can say things are getting any better, but they don't appear to be getting any worse," he told journalists.
They were noises echoed by the John Lewis Partnership last Thursday, following a 77% nosedive in pre-tax profit to £103.9m for the year to January 27.
"Next has a 500-strong portfolio to reshape if it wants to be fit for the multichannel era"
"We expect trading to be volatile in 2018/19, with continuing economic uncertainty and no let-up in competitive intensity," the business said in its full-year financial statement, concluding that "further pressure on profits" was to come.
That outlook appeared to create a ripple effect on the Stock Exchange – Next's share price fell 2.5% on the day of its high street rival's results – as investors used the Partnership's performance as a barometer for the industry.
John Lewis has been vocal about its plans to combat the uncertain and fiercely competitive market backdrop it alludes to.
The business has already made vast changes to its internal structure in order to make it fit for the future, racking up £282.5m of exceptional costs last year.
It made around 1,400 redundancies during that period and chairman Sir Charlie Mayfield has warned there will be more job losses to come.
John Lewis is also investing in AI, developing training programmes to ensure its staff have the skills fit for the digital revolution and has launched nine apprenticeship schemes to help it nurture future talent.
As Mayfield states: "This is absolutely no time for a defensive crouch. On the contrary, our whole game plan for our business is to step up to these challenges and we will be upping the pace on innovation in the year ahead.
"It is the only way to win in these markets."
They are words that should be ringing in the ears of the City – and indeed Wolfson himself – as Next prepares to unveil its results.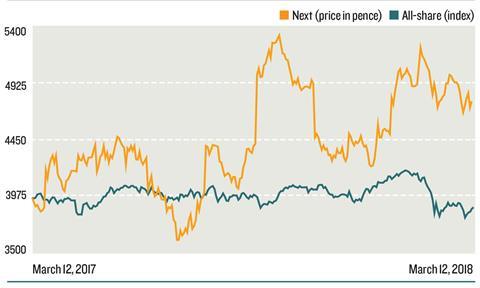 Investors and analysts will no doubt harbour a hunger for the retailer's long-serving boss to put more meat on the bones of his longer-term strategy.
Next, to be fair to it, has already made some decent strides.
Improvements in product have driven sales in the right direction. Own-label sales fell 1% during its second quarter, compared with a steeper 7.4% decline in the previous period.
Directory performance has also progressed, something Next attributed to better stock availability, ranging and increased customer awareness.
More vision needed
But there is more to be done.
Whitman Howard analyst Tony Shiret is among the observers seeking a sense of clarity around Next's wider bricks-and-mortar strategy.
While rivals such as Marks & Spencer have been clear about plans to shutter stores and slow down its Simply Food opening programme over the coming years, Next hasn't spelled out a property blueprint with as much longevity.
It is decelerating new openings and seemingly looking for partners to take on excess space in its bigger stores – car retailer Rockar is taking on part of its Manchester Arndale shop.
But Next has a 500-strong portfolio to reshape if it wants to be fit for the multichannel era.
A longer-term vision for its store estate and evidence of further future-proofing investments, à la John Lewis, would certainly hit the right notes in the City.
Luke Tugby is deputy editor at Retail Week.