Following another M&S clothing sales fall (8.9% – the biggest in 10 years), what role can online play in engaging customers to drive growth?
In 2014, M&S launched their redesigned website at a cost of £150m after nearly two years of development.
Following the launch, their sales dipped significantly. In the most recent announcement, M&S reported online sales growth of 23.4% – with a record 7.4m customers.
There is, however, something of a 'good news' spin in the headline number: whilst the first-quarter grew by almost 40%, growth in the fourth quarter was a far more muted 8.2%. This suggests that they have staged more of a recovery of lost sales than established a growth trajectory that is beating their online competition.
When benchmarked against other world-class ecommerce companies, there are three key issues that are preventing M&S from maximising the potential revenue available online:
1. Well-dressed shop windows work
Ecommerce shop windows work very similarly to high street ones. However, they can often be a triumph of form over function, where brand or promotion takes over from thinking about the customer; where the retail space is dominated by a carousel that rarely attracts significant interest. These over-sized billboards have the impact of squeezing out content that talks to as many shopping missions as possible in favour of what the retailer thinks is important.
A simple 'fold test' on the current M&S home page shows that all of its potentially engaging content is hidden below the bottom of the screen for the vast majority of customers. Even the headline that signposts more content is obscured.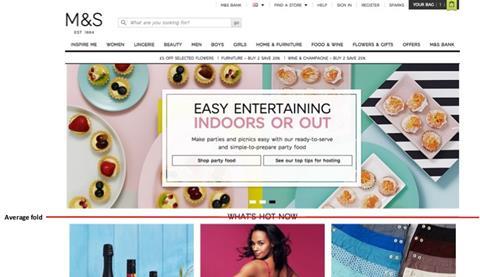 Compare this to leading fashion retailer Asos: it's obvious here that there is much more on the page and many ways to find what you are looking for. Promotions are obvious, but so are regular shopping missions.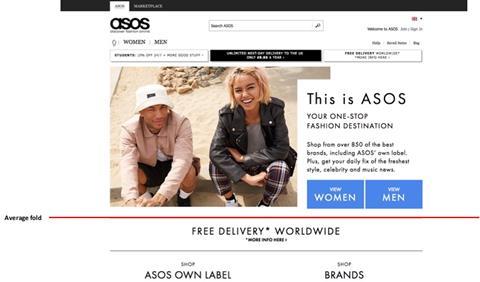 2. Good stores make your shopping mission easy
Again, just as in a physical store, good signage and clear navigation can make all the difference between a satisfied and a frustrated customer. Successful ecommerce sites prioritise 'findability'.
This is driven by three things: clear navigation including obvious 'calls to action' that invite engagement; an immediately recognisable search bar and effective handling of failed search.
Research suggests that 'failed searches' account for between 6-15% of all searches. M&S handle failed search pretty well for slight misspellings and typos. For more significant errors they could improve their customer engagement. Putting in a serious misspelling generated the following page: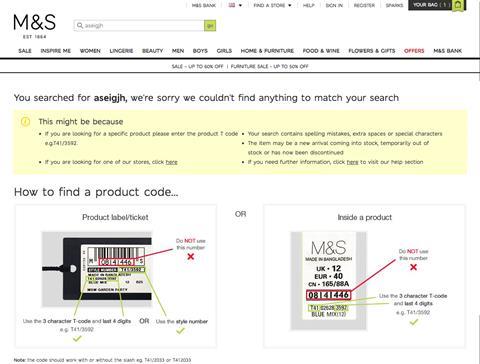 This is an all too common approach – apologise but put the onus back on the customer for making the mistake. The M&S site details how to find a product code – rather difficult if you haven't got the product you want to buy!
There are much better approaches to take, such as a second navigation in place of an alternative search. Split tests have shown this approach to increase conversion rate by 13% against the M&S approach above.
'Blur testing' a website page to see how effective the design is in engaging customers easily can often highlight weaknesses in 'findability'. Blurring the home page as shown below, highlights that the current M&S site fails on two criteria – the search bar is pretty invisible and the calls to action get lost in the design treatment.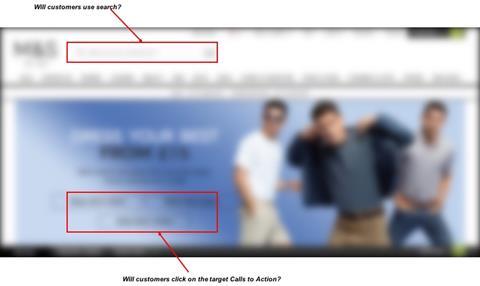 Blurring the home page of one of their competitors – House of Fraser – demonstrates how design can work well for customers. This page displays an obvious search function and clear calls to action with significantly more retail space above the fold being devoted to additional content to help customers find what they are looking for.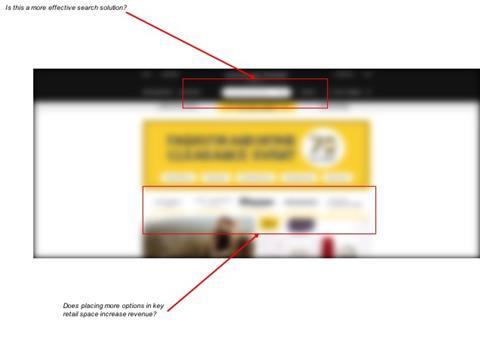 3. Engaged customers work with you
Currently, there is an ecommerce survey running on the M&S.com site. There are costs associated with buying such a tool and then gathering and responding to the data.
The fundamental question here is, does asking customers to grind their way through around thirty questions, offer any value to M&S? In addition, where is the value in getting the customer to merely rate your opinions of what may be on their minds? This is poor customer engagement.
Find out more about Retail Week Buzz
Until August 28 we're offering all retailers 2 for 1 tickets and all non-retailers 30% off.
Visit Buzz.retail-week.com or call 0203 033 4247 now to book your place today.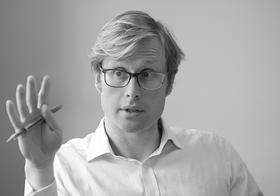 James Hammersley is the co-author of 'Leading Digital Strategy'. He is a founding partner of Good Growth, and has worked with some of the UK's biggest names including O2, The Economist, Game PLC, Ann Summers, The Guardian, Barclays, Bupa and Manchester United. For more information, visit www.goodgrowth.co.uk