Discount supermarket Lidl has launched a menswear range in the UK following the success of its womenswear collection.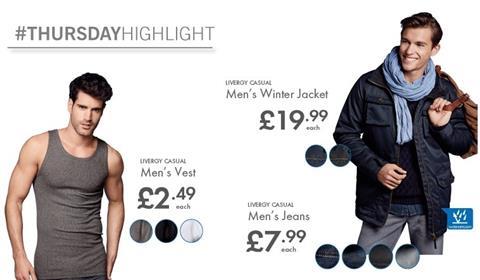 The menswear range includes nine items of clothing including jeans for £7.99 and loafers for £9.99.
The collection will be in stores until Lidl sells its existing stock, according to The Telegraph. It follows the success of its womenswear launch earlier this year when it sold out of stock in just three days.
Lidl non-food buying manager Josie Stone said: "The response to our womenswear collection was phenomenal. It just goes to show that the British public is looking for fashion forward pieces at great value, which is why we wanted to offer a collection for men as well.
"This new range continues with that concept of offering classic fashion pieces with a bit of an edge but without the designer price tag to match."
The Lidl fashion range
Vests - £2.49 each
Three-pack of socks - £2.49
Two-pack of boxer shorts - £3.99
Two-pack of T-shirts - £4.99
Casual shirt - £6.99
Jeans - £7.99
Knitted jumper - £8.99
High-top loafers - £9.99
Winter jacket - £19.99