Endless has agreed to take on 72 of Jones Bootmaker's stores, saving 840 jobs
Jones Bootmaker will close 25 stores and six concessions
The retailer will cut 262 jobs as a result of store closures
Jones Bootmaker has been given a lifeline in a £10.5m takeover deal by private-equity firm Endless that will see the retailer enter pre-pack administration.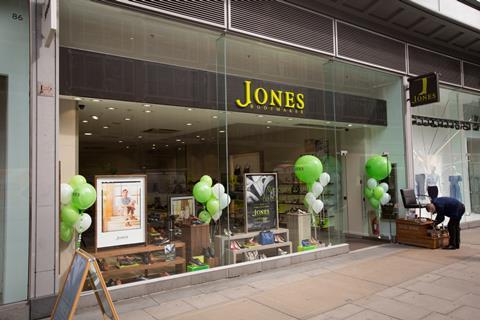 The beleaguered footwear retailer reached an eleventh-hour deal with turnaround firm Endless after appointing KPMG as administrator.
The pre-pack administration deal sees Endless snap up 72 of the footwear retailer's stores, saving approximately 840 jobs.
Jones Bootmaker will close 25 underperforming stores and six concessions with immediate effect, costing around 262 jobs.
KPMG joint administrator Steve Absolom said: "Whilst it is always pleasing to preserve a significant number of jobs, sadly a number of redundancies are to be made at the closed stores.
"Over the coming days, our priority is to ensure all employees who have been affected by redundancy receive the information and guidance they need in order to claim monies owed from the Redundancy Payments Office."
Deal made
The deal was eventually reached after negotiations between Endless and former owner Alteri had previously broken down over price, came just days after Jones' sister retailer Brantano plunged into administration.
Alteri had sought separate buyers for both businesses, but was unable to find a suitor for Brantano, where more than 1,000 jobs hang in the balance.
Footwear rivals including Kurt Geiger and Pavers had previously expressed interest in acquiring Jones, but are understood to have cooled their interest as a result of the tight time restraints involved in the deal.
KPMG joint administrator and partner Will Wright said: "We are delighted that we have been able to rescue such an iconic UK footwear brand as Jones Bootmaker, including a high proportion of stores and preserving a large number of jobs, especially given the current economic pressures faced by retailers across the UK.
"This deal recognises the value of Jones as a strong and popular high-street brand with a loyal customer base."