Jones Bootmaker is expected to go into administration days after Brantano
1,100 jobs will be put at risk if the retailer enters administration
A rescue deal by buyout firm Endless fell through earlier this week
Jones Bootmaker is expected to enter administration imminently following the collapse of a prospective private equity deal.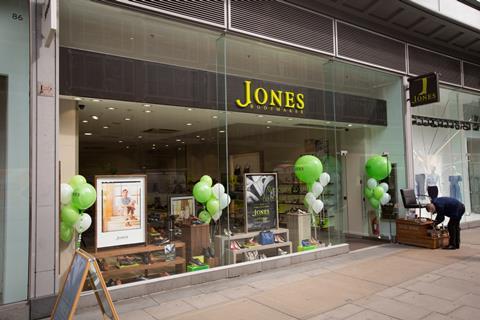 The beleaguered footwear retailer is expected to call in administrators today, just days after stablemate Brantano entered administration.
An administration, which would put 1,100 jobs at risk, is expected after a prospective private equity deal with buyout firm Endless fell through.
It is understood that the prospective deal with Endless collapsed after owner Alteri asked for £1m more than the £10m offered by the buyout firm.
As revealed by Retail Week Jones Bootmaker and its sister retailer Brantano both filed notices to appoint administrators earlier this month.
The retailer is understood to have received interest from Kurt Geiger and Pavers, the latter of which is believed to be interested in snapping up a handful of Jones Bootmaker stores to add to its own estate.
However, a deal is not expected to be finalised in time to offset a cash crunch triggered by an upcoming rental bill.
Jones has 1,145 employees and operates nearly 100 stores alongside a selection of department store concessions.