A new-look H&M has opened in west London that may be aimed at a more mature shopper, or perhaps intends to alter the perceptions of its existing customers. 
Most retailers would probably be aware of what might be termed the 'logo test', whereby if a sign indicating the name of a shop were removed, most shoppers would still know the name of the store they were looking at.
Head to the Kings Mall shopping centre in Hammersmith in west London and there is a store that fails the test spectacularly in the shape of the refurbished 2,300 sq m, three-floor H&M, which looks, well, nothing like an H&M.
The point of this store, which the retailer calls a test that "seeks to improve customer experience and build upon the strength of the H&M brand", is that it represents a move away from what the Swedish fashion giant normally does and perhaps is a lesson either in moving with your shoppers or taking them with you.
To this end, the branch may be intended for a more mature demographic. Walking into the store with an acquaintance who would not be a core H&M shopper, the comment made was: "Oooh, I like this."
More sophisticated than your average H&M
At first and probably second glance, those familiar with the Banana Republic store of yore on Regent Street might have a mild sense of déjà vu.
Again, applying the logo test, the store exterior is a black metal and glass affair with greenery in window boxes above the main door: nothing like a workaday H&M.
Outsize carriage lamps, either side of the entrance, complete a level of sophistication that might be a stretch for the teens to early 20-something shopper. The green plant theme is continued in the low-key windows, giving the store a quietly affluent feel, in keeping with the well-heeled nature of Hammersmith itself.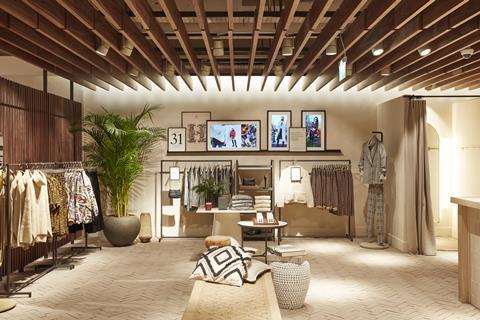 Stepping inside, this is not the bright and in-your-face interior that any dedicated H&M shopper might anticipate. Instead, the brown walls and semi-industrial ceiling of the ground floor look almost as if the space has been given a sepia wash with hero lighting provided by multiple spots on overhead tracks.
In this it bears a passing resemblance to the recently opened Urban Revivo (aka 'The Chinese Zara') store in the nearby Westfield London shopping centre.
Equipment levels are much lower than in a standard H&M outpost, meaning that views across the whole of this deep and broad interior are wide-ranging and similar to the newly opened H&M Home standalone in the nearby Westfield London shopping centre, an area has been set aside for a florist offering cut and potted flowers.
Once more, green plants have been used to provide focal points for the sweeping gaze, and low tables display accessories that serve as an adjunct to the mid-floor product displays.
A Mediterranean feel
If there is a single feature that commands the view, however, it is the mid-shop staircase: escalators have been eschewed.
This is a see-through structure with ridged steel treads on each stair, and wrought iron and dark wood are used to promote an upscale ambiance, rather than the more normal grab-and-go environment beloved of fast-fashion retailers.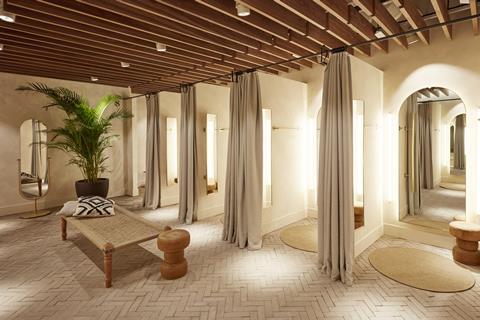 Also worth noting – and a real departure for the retailer – is the low product density. This not only ensures that there is more room to move, but puts the store in a retail arena that is a world away from what purveyors of budget fashion would consider best practice.
Head downstairs and it is menswear in the basement, which has a semi-Mediterranean feel thanks to the herringbone-pattern brick flooring (a feature also used in the fitting room area for women on the ground floor, which comes with a slatted plain wood ceiling and neutral, 'natural'-coloured curtains), coupled with the tiered terracotta plinths that are fitted in around the space, beside the mid-floor display tables.
The top floor is about kidswear, and although it would be normal for this to be bright and almost at odds with the rest of the offer in a multi-category store, even here H&M has pulled back and played the sophistication card, rather than deploying fake rubber cacti and primary tones, as might normally be assumed.
Repairs, embellishments and self-checkout
There is much to set this store apart from anything else in the H&M estate, but as well as style and ambiance, this is a space that represents something different as far as the service side of things is concerned.
Foremost among these is the 'Repair and Remake' station where, conscious perhaps of the negative press about disposable fashion, H&M has installed a counter at which repairs on customer-owned H&M clothing can be effected.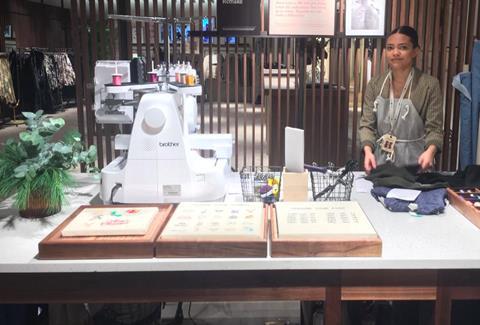 Personalisation is also possible in this 'department' in the shape of customised embroidery with prices starting at around the £3 mark.
And in a nod towards the fact that this is still an H&M store, screens show images of customers wearing recent purchases that they have shared using the #HMxME hashtag on Instagram.
Finally, there is the matter of payment. Following the trail blazed by Zara in its most recent flagship stores, this shop is the first H&M in the UK to use self-checkouts in addition to normal till points.
As in Zara stores that have this service, the customer is left to get on with it, but a close eye is kept on things by a member of staff, ready to help the shopper through the process.
In total this is an almost complete rethink by H&M and there is nothing else like it currently. The real question is whether it represents a shift in thinking and a realisation that shops have to change with their shoppers.
This store does not have a 'young' feel about it, yet it still manages to feel both contemporary and almost aspirational.
Whether this means that young shoppers are being offered something different or that it is aimed at a more mature demographic is a moot point, but it does look a very good new store and one that seemed to be garnering admiring glances on opening day.