Dr Martens has issued a profit warning for 2023 as ongoing issues with its LA distribution centre meant costs were "higher than initial estimates".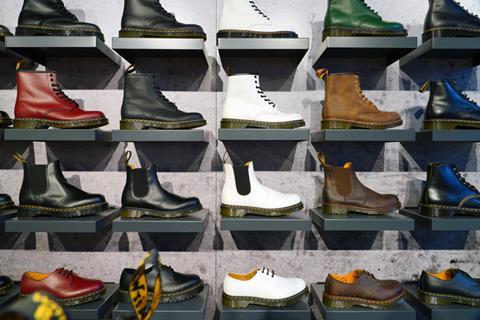 Expected EBITDA is now £245m. It was previously estimated to be between £250m and £260m.
The retailer reported fourth-quarter revenue was up 6% driven by direct-to-consumer trading, which grew 20% and 13% on a constant currency basis. Wholesale revenue declined by 4%.
Full-year revenue growth was up 10% and 4% on a constant currency basis, while direct-to-consumer rose by 16%.
Dr Martens also issued an update on its LA distribution centre, which has been facing operational issues impacting its wholesale channel in the US since December.
Its shipment volumes are back to "normal levels" but costs associated with the distribution centre were £15m in 2023, higher than the expected £8m to £11m.
Chief executive Kenny Wilson said: "Full-year revenue was up 10% with Q4 up 6%. In constant currency, full-year revenue was up 4% with Q4 level with last year.
"By channel, Q4 growth was driven by strong DTC trading, led by retail growth of 36%, or 28% in constant currency, but this was offset partly by wholesale being behind last year. Within our regions, EMEA DTC accelerated in Q4 while America DTC remained soft.
"We took decisive action to tackle the operational issues at our LA DC with shipments now back to normal levels. However, costs associated with resolving these issues were higher than our initial estimates which, in conjunction with softer Q4 wholesale revenue, means we expect EBITDA for the year to be around £245m.
"We continue to adopt a custodian mindset, taking decisions in the best long-term interests of all our stakeholders, and I believe firmly in the DOCS strategy, the continued strength of the Dr Martens brand and the medium-to-long-term growth potential of the business. I look forward to sharing more details at the full year results."
Get the latest fashion retail news and analysis straight to your inbox – sign up for our weekly newsletter