Pre-tax profit excluding exceptional items up 37%
Retail sales up 26%
US sales up 50%
Asos has reported a jump in sales across its UK and international markets as its active customer numbers and average order value rose.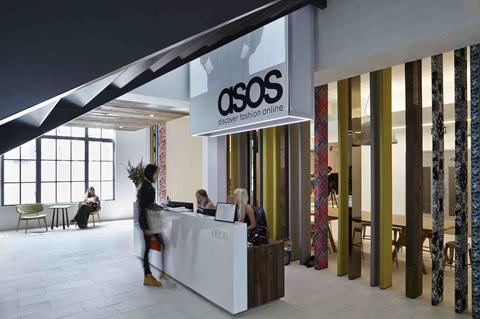 The fashion etailer reported a 26% increase in retail sales to £1.4bn for the year to August 31 and a 37% rise in pre-tax profits excluding exceptional items to £63.7m.
The online retailer attributed exceptional costs to its exit from China in April and subsequent reallocated investment, which caused pre-tax profits to fall 31% to £32.7m during the period.
Asos's UK sales rose 27% and its European sales were up 28% while US sales soared 50%.
The retailer's active customer numbers rose 25% in the year with website visits up 22% and average order value up 3%.
Chief executive Nick Beighton said: "The strength of these results reflects our unwavering focus on delivering great customer experience, supported by rigorous execution of our investments.
"We continue to target our growth opportunities, so we're accelerating investment in both logistics and technology. The pace at Asos is continuing in the new financial year, which we are looking forward to with confidence."
Since finishing its latest financial year the retailer has incurred exceptional costs of £20.9m to settle a trademark disrupt, which the retailer has said will "allow us to more actively target the significant and growing sportswear market".
The fashion etailer's full-year results come as it faces further criticism from trade union GMB over working conditions in its Barnsley warehouse.
The retailer has denied these allegations as Beighton said Asos has "nothing to hide".