The footwear market has been down at heel of late, with famous names struggling and sales across the sector falling.
Jones Bootmaker filed a notice of intention to appoint administrators earlier this month, while stablemate Brantano entered administration this week.
High-street stalwart Clarks – which posted a 65% slump in profits in its last reported financial year to January 31, 2016 – is currently conducting a "strategic review" of its 550-strong UK store estate.
And the footwear sector has suffered its third consecutive month of falling sales, according to the BRC-KPMG retail sales monitor.
However, there is a selection of noteworthy exceptions bucking this trend and putting their best foot forward to boost the bottom line.
Kurt Geiger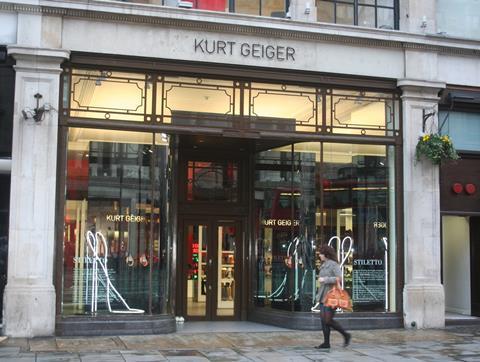 The upmarket retailer, which trades from more than 70 stores and approximately 180 concessions, has grown sales continuously since the turn of the millennium.
More than half of the retailer's sales come from own-brand. Its trend-led designs have become a firm favourite of the fashion-forward and celebrities alike. Kurt Geiger's price point puts it at the premium end of the footwear market while remaining accessible to the more affluent high-street shopper.
The retailer also sells luxury brands including Gucci and Manolo Blahnik.
The retailer has dodged the stumbling block of overinflated store estates that has tripped up other footwear businesses in recent years, operating the majority of its outlets through department store concessions.
Alongside its resilient store estate, Kurt Geiger bolstered its product offering in 2015 by expanding into children's footwear.
The retailer's ownership has changed hands three times in the past five years, and it was most recently snapped up by private equity group Cinven in 2015.
Unlike Brantano, the chop-and-change ownership has not derailed Kurt Geiger's growth, with pre-tax profits doubling to £22.8m in 2015.
Public Desire
Etailer Public Desire is a relative newcomer to the footwear market and is just three years old.
However, since stepping into the sector it has gone from strength to strength, notching up an impressive £9m in revenue in 2015.
The fast-fashion retailer's primary customer is a 16- to 25-year-old female, to whom it aims to appeal with competitive pricing and a savvy use of social media.
In fact, the business launched its Instagram account several months before its transactional website in order to gauge customer reaction and tweak its offer and layout accordingly.
Co-founder Ateeq Akhlaq says: "When we first started, Instagram and influencers were really taking off, whereas now every single company is doing it.
"We understood the potential there – I think customers nowadays are more loyal to influencers than celebrities, and influencers are becoming a sort of celebrity in their own right."
The retailer has tapped into the popularity of social media platforms to drive sales – its Instagram account hit one million followers last year and it also has an impressive Snapchat following.
"You've got to look at where your customers are going to be, how technology is changing and how social media is changing," says Akhlaq.
"We try to be the first to market in everything that we do."
Public Desire also offers next-day delivery and free returns for its customers.
The pureplay etailer, which launched a US website last June, has got little appetite to step into the fray of bricks-and-mortar retail at the moment.
"We would never discount it but there is so much more opportunity in terms of online-only right now," says Akhlaq.
The etailer's lack of bricks-and-mortar costs also allows it to maintain its price point between £20 and £50, which Akhlaq emphasises as a point of difference for the business.
Schuh
This mid-market footwear retailer aims to serve fashion-conscious, younger shoppers. Its average price point is £50 and its product range is largely branded, with a particular emphasis on fashion trainers.
The retailer has also invested heavily in its technology proposition, both in-store and online, as a point of difference for its shoppers.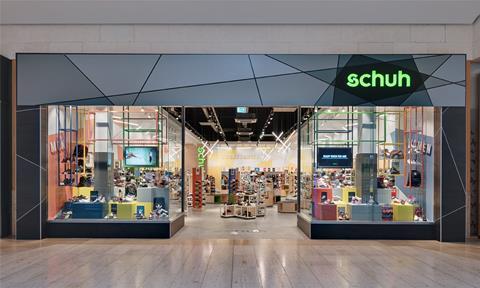 Chief executive Colin Temple says: "We're leading in mobile payment in our stores, and our store staff can use iPads to check if a shoe is in stock in a shopper's size without having to leave the shop floor.
"For one, this is a better customer experience, and secondly means I'm getting more energy from my staff because they're not running up and down the stairs to the stock room unnecessarily."
Driving convenience for shoppers and productivity for staff are the "little victories" that Temple says have kept Schuh's profits and sales growing over the past few years.
The retailer has also been quick off the mark in developing its web offer in comparison with its rivals, and now makes 16% of its overall sales online.
Temple says this investment in Schuh's online proposition has given the retailer a foot up.
"If you're a big legacy retailer like Clarks, that big store infrastructure is from a different period. Perhaps you needed 400 stores for UK coverage, but that might now be only 150 stores"

Colin Temple, Schuh
"If you're a big legacy retailer like Clarks, that big store infrastructure is from a different period. Perhaps you needed 400 stores for UK coverage, but that might now be only 150 stores," he says.
For Schuh, using social media to drive brand awareness among its millennial shoppers is a priority, although Temple stresses that this is a work in progress.
"A lot of it is timing – you ride a trend or you ignore it, you have to get on board when you can get some efficiencies from it," he says.
"We're an IT business and we're also a social business, but then you have to work out how much it's costing you to get noticed and whether you're getting a return on your investment."
Soletrader
The footwear retailer has gone on an investment drive across its store and online offer. In 2015, it ploughed £1.5m into a store revamp and another £500,000 into its three websites: Soletrader, Sole and Soletrader Outlet.
Although the retailer does carry women's and children's footwear ranges, Soletrader has a keen focus on menswear both in its product range and store layout.
The retailer is designed to act as an antidote for male shoppers who struggle to find a diverse range of footwear options on the high street, where women's shoes are often the core focus.
Soletrader operates a slim store portfolio of 50 shops, but intends to serve shoppers across the discount, mid-market and premium demographics through its Sole, Soletrader and Soletrader Outlet propositions.
Soletrader has also been bolstering its high-end product offer in recent years and sells premium brands including Versace, Jil Sander and Michael Kors.
The specialist has also collaborated with a variety of retailers on their forays into footwear, including Ted Baker and Joules.
Deichmann
The German footwear giant, which recorded global sales of €5.6bn in its latest financial results, has kept a relatively low profile since it entered the UK market in 2001.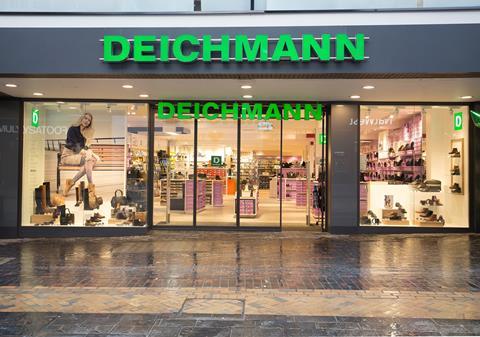 The retailer, which sells footwear across men's, women's and children's categories, sits at the value end of the market. It currently has approximately 60 stores in the UK after kicking off an aggressive bricks-and-mortar expansion drive in 2008.
Retail Week Prospect analyst Phil Wiggenraad says: "Deichmann has a similar concept to Shoe Zone and the beleaguered Brantano business, with footwear arranged on shelves by size and customers able to serve themselves.
"What's helped set it apart has been its collaborations with celebrities that resonate with a younger market."
The retailer, which generates 10% of its sales online, is innovating to bring its stores and digital offer closer together.
"Deichmann is also surprisingly tech-forward and was one of the first footwear retailers to start trading online"

Retail Week Prospect analyst Phil Wiggenraad
"Deichmann is also surprisingly tech-forward and was one of the first footwear retailers to start trading online," says Wiggenraad.
"In its native Germany, Deichmann is also testing 'omnichannel outlets' where the digital and in-store experience are closely aligned."
Its UK profitability has grown at pace in recent years, albeit from a relatively small base, while rivals Shoe Zone and Brantano have struggled.
And while Deichmann still has some strides to make until it hits its ambitious target of 400 UK stores by 2018, now could be the moment for the value retailer to make its mark on the footwear mass market.