As the shortlist for the Retail Week Awards 2017 is revealed, we put a spotlight on the retailers competing for Customer Technology Innovation award.
AO.com
The electricals retailer prides itself on its supply chain and customer service, and launched its My AO mobile app in August to drive these values for its customers.
The retailer's mobile app allows shoppers to track their order and delivery status in real-time. The app, which can be downloaded on iOS and Android devices, enables shoppers to contact their delivery driver directly.
This functionality was designed to keep customers informed on their delivery without needing to reach out to the third party AO contact centre.
The app puts shoppers in full control of their delivery by offering them relevant contact details and information on the status of their order in real time.
The grocer launched a mobile payment app to rival Apple Pay in March, allowing shoppers to spend up to £250 and win Clubcard points when they used contactless technology on their smartphone to buy their shop.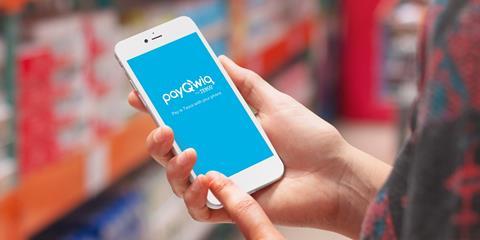 The app, which was initially tested across 50 stores in Edinburgh and London, was extended to 100 more stores in August.
The grocer is gearing up for a full roll-out of the payment technology.
Shoppers can also view all of their purchases from Tesco using the PayQwiq app, enabling them to effectively budget.
The app also saves them time during the payment process at the till.
Argos with Yocuda
The electricals retailer partnered with technology supplier Yocuda (formerly known as Ereceipts) in order to reduce returns and increase customer engagement.
Argos had found that many of its shoppers returned electricals items without any technical fault because they had not properly read instructions on how to set them up.
The retailer teamed up with Yocuda to include instructional content on shoppers' digital receipts for the product they had purchased, with information on how to set up or install the item they had bought.
The digital receipt provided a direct link to information on said product via Argos's support website, reducing returns and driving customer engagement on the retailer's website.
The health and beauty retailer collaborated with IBM to create an iPad app for its store staff to answer customer queries and drives sales.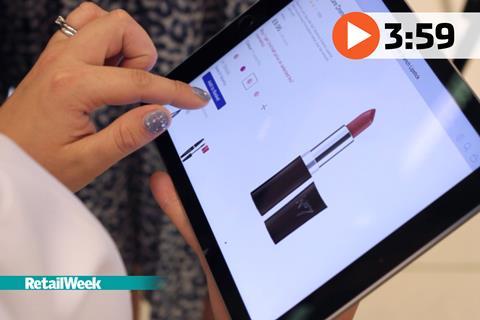 The retailer's Sales Assist app allows staff to show shoppers in-store availability of all products in real-time, as well as offering product reviews, recommendations and click-and-collect capabilities.
The app was developed in collaboration with a Boots store employee to ensure the functionality was relevant for the retailer's shopfloor staff.
Director of omnichannel and development at Boots Robin Phillips said: "[Sales Assist] will help even our smallest stores feel like a flagship shop, with access to the entire Boots range at their fingertips."
Dixons Carphone with Household Design
Dixons Carphone had a problem – it needed to increase its sales of digital cameras, which are notoriously tricky to demonstrate effectively to shoppers in-store with a smartphone in their pocket.
To tackle this issue and drives sales as a result, the retailer teamed up with Household Design to create a digital imaging wall.
The highly interactive visual technology allows shoppers to instantly compare photos from different cameras as well as create an arresting in-store display for shoppers and passers-by.
Dixons Carphone in-store technology created a triple threat in retail – increasing convenience for the customer whilst bolstering the in-store experience and boosting sales.
F.Hinds
The jewellery retailer wanted to offer its shoppers a means of buying its high-value items in the correct size, quickly and conveniently.
However, the specialist nature of its offer meant it made little logistical sense to have multiple ring sizes available in individual stores on a highly stocked central warehouse.
To tackle this issue while increasing the ease of the shopping experience for the customer, F.Hinds extended its reserve and collect offer to show expected availability in a customer's chosen outlet based on the availability of the product at a nearby warehouse or store.
The retailer also included availability of said product in the nearest nine stores to the chosen outlet for a distance up to 35 miles, giving shoppers flexibility to collect a product from another location if it was immediately available.
The department store retailer found that many of its shoppers were forgetting to bring their loyalty card with them or forgetting receipts when returning items, resulting a poor customer experience and delays at the tills.
To tackle this issue, the retailer introduced digital loyalty cards and store receipts to its mobile app, as customers are unlikely to leave their house without a smartphone.
The retailer also added its Kitchen Drawer functionality, which compiles all of a shoppers' store receipts and online orders, which is built natively into John Lewis's mobile app but can be accessed across multiple channels.
Missguided with Poq
The fast fashion etailer wanted to monopolise on its tech-savvy, young customer base with a mobile app that would drive customer engagement.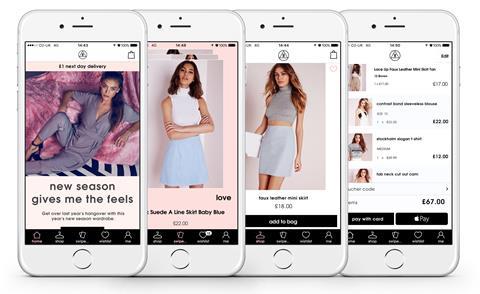 To deliver this aim, the etailer teamed up with native retail app platform provider Poq on a fully transactional shopping app.
The mobile app includes Tinder-style functionality with a feature entitled Swipe to Hype, which allows users to indicate their preferences for the etailer's product with a flick of the thumb.
Items they indicate a preference for are then added to their wishlist, driving the relevance of the products available on the app.
O2
The mobile phone retailer realised that when a customer thought their purchase had malfunctioned, they were unlikely to have a positive experience and have a higher propensity to go to a competing provider.
However, the retailer also found that the majority of items that shoppers returned as the result of a fault in technology were not actually malfunctioning and could be fixed with a software upgrade.
As a result, O2 launched digital returns and repairs suites online and in-store, with staff equipped to health-check and upgrade faulty products for shoppers as they arrived in-store or contacted the retailer online for assistance.
Screwfix
The DIY retailer prioritises convenience for its trade customers, who often come in-store on their way to or from a repair job.
In order to further drive efficiency, the retailer launched its Screwfix Card, which carries a unique code for each customer linked to their retail acocunt that can be scanned at PoS devices to save time at check-out.
The card also collates all of their purchases on their online account so they can return any purchase without the need for a receipt.
In conjunction with this, Screwfix introduced its Quickshop App, allowing shoppers to place orders in-store without using pen and paper.
The retailer's mobile app allows shoppers to make a digital list of the items they need and check stock availability with a simple tap.