HMV is set to return to its flagship store on Oxford Street later this year following a four-year absence.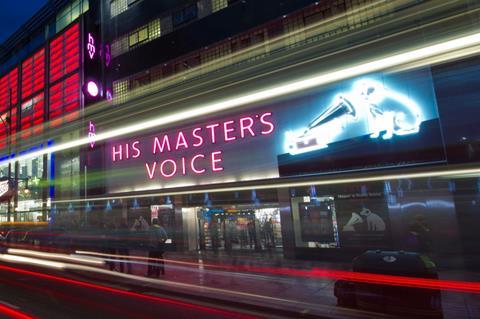 The move to its old central London location is a sign of a "dramatic turnaround" of the business under owner Doug Putman, who took over in 2019.
The 363 Oxford Street store will feature the new 'HMV Shop' format and new logo, which will be added to 24 new sites and rolled out to 14 in the existing estate by the end of the year.
The London flagship opened in 1921 as the very first HMV store and has been a community hub for music fans and one of the UK's most famous retail destinations.
The revived store will stock a range of vinyl and film, TV, music technology and pop culture merchandise, as well as welcoming global artists and live performances from up-and-coming acts.
HMV has 120 shops across the UK and Europe's largest entertainment store is its 25,000 sq ft The Vault in Birmingham.
Putman said: "The expansion of our fan-focused pop culture offer is really working for us and the reopening of our flagship represents the culmination of a good few years of hard work. We are also opening stores in Europe this year, so while it is the culmination of one phase of work, more excitingly we see it as the launch pad for an exciting new era for HMV."
Westminster City Council cabinet member for planning and economic development Geoff Barraclough added: "It's fantastic to see this iconic brand back on Oxford Street where it stood as a driver of music and pop culture in the capital for so long. It's also particularly pleasing that it is replacing one of the many US candy stores that sprang up during the pandemic.
"The return of this famous name is proof that there's a buzz back in the West End. Established retailers want a presence on the UK's premier shopping street and as a council, we want to see the nation's high street reinvigorated and home to brands like HMV."