As electrical giant Dixons merges with Carphone Warehouse, we take a more detailed look at the changes taking place to the company structure.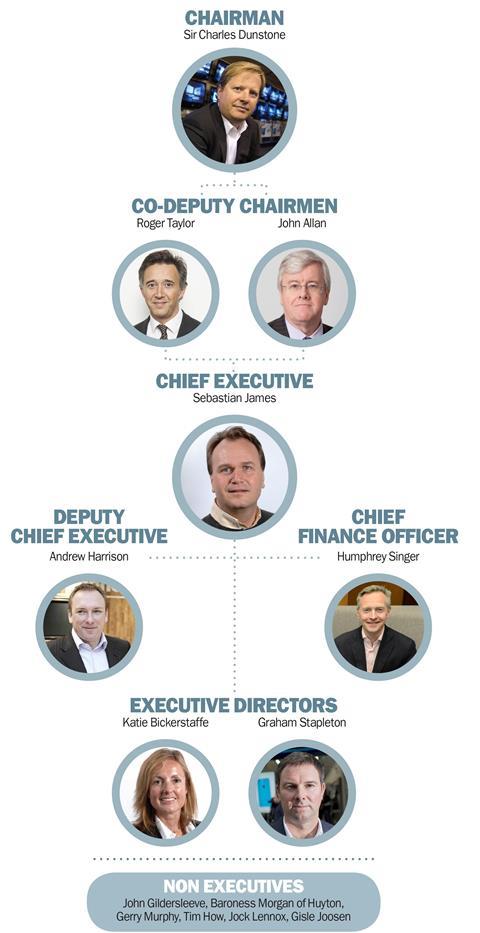 Chairman, Sir Charles Dunstone
The founder and chairman of Carphone Warehouse will become chairman of the group. Entrepreneur Dunstone set up Carphone Warehouse 25 years ago and has built it into a £3.7bn business, which operates over 2000 stores across Europe.
He floated the business in 2000 and launched internet and television firm Talk Talk in 2003. Dunstone has been described as pragmatic, honest and a shrewd operator
Co-deputy chairman, Roger Taylor
Taylor, Dunstone's right hand man, takes on the role he holds at Carphone Warehouse. He was previously chief executive of Carphone Warehouse from 2010 until last year and was chief financial officer beforehand. During his time at the helm he was responsible for new business development, strategic initiatives and investor relations. He oversaw Carphone's ill-fated joint venture with Best Buy during his tenure.
Co-deputy chairman, John Allan
Allan, chairman of Dixons, will level peg with Taylor. Allan has been chairman of Dixons since 2009 and has overseen its turnaround. He is also chairman of Worldpay, Care UK, DHL UK and is a non-exec at the Royal Mail and a senior advisor to Alix Partners.
Chief executive, Sebastian James
Sebastian James replaced John Browett as chief executive of Dixons in 2012. He was previously group operations director at the electricals retailer. Charismatic James has won plaudits since taking the top job. Oxford graduate James is a pal of David Cameron and was a member of the infamous Bullingdon Club. Previously worked as strategy director at Mothercare where he implemented its turnaround strategy in 2003.
Deputy chief executive, Andrew Harrison
Harrison is a Carphone Warehouse lifer and took the helm last year. He became commercial director for the UK in 1998 and stepped up to become UK chief executive shortly after the firm floated in 2001. Harrison is nicknamed 'Stat' by Dunstone, after sports pundit Angus "Statto" Loughran he became expert in the business' figures while doing the company's weekly accounts.
Chief finance officer, Humphrey Singer
Singer was chief finance officer of Dixons. He joined Dixons in 2007 and has held various roles in finance before joining the board in 2011. Prior to Dixons, Singer was finance director at Coca Cola.
Executive director, Katie Bickerstaffe
Bickerstaffe, currently chief executive of UK and Ireland at Dixons, joins the new board. She joined the electricals retailer in 2008 as director of marketing, people and property. She as promoted to the board in 2012.
(Bickerstaffe was previously managing director of Kwik Save Ltd and group retail director and group HR director at Somerfield plc.)
Executive director, Graham Stapleton
Stapleton, currently UK and Ireland chief executive at Carphone Warehouse, will also sit on the board. He replaced Harrison as UK boss last year and was previously chief operating officer of Carphone Warehouse.
Non executives
John Gildersleeve
Gildersleeve was non-exec deputy chairman at Carphone and was a member of the board from 2000 He held the non-executive chairman's position between 2005 and 2010. He is also chairman at British Land. He was previously an executive director of Tesco until he retired in 2004.
Baroness Morgan of Huyton
Huyton has been a non-executive at Carphone Warehouse from 2005. She was previously director of government relations at 10 Downing Street and political secretary to the Prime Minister from 1997 to 2001. She was appointed minister for women and equalities in 2001. In 2006, she was appointed as a board member of the Olympic Delivery Authority.
Gerry Murphy
Murphy joined the Carphone Warehouse board last month. He is a former Deloitte partner, and a member of its board, and was leader of its professional practices group.
Tim How
How is a former chief executive at Majestic Wine who led the management buy-out of the firm. He has been an senior independent director at Dixons since 2009.
Jock Lennox
Lennox has been on the Dixons board since 2012. He is a chartered accountant and was a partner at Ernst & Young, where he was a partner for 20 years, before his retirement in 2009.
Gisle Joosen
Andrea, who joined the board last year, is chief executive of Boxer TV Access in Sweden and was previously managing director of Panasonic in the Nordic region and Twentieth Century Fox. Her early career was in senior marketing roles with Procter and Gamble and Johnson and Johnson.