As we approach the middle of the 2020s, talk of advanced technology is rife as retailers look to digitally transform parts of their supply chain in line with the evolution of the industry
With Asda recently announcing a trial of driverless deliveries in north-west London, it's clear that retailers are looking to use technology through automation to simplify processes, remove potential human error and cut costs.
But just how close is the retail sector to implementing this automated delivery future? Are driverless delivery vehicles and autonomous drones going to become the norm in the near future, or another passing and expensive science-fiction fad?
Asda
The supermarket announced that it would be trialling "Britain's biggest autonomous grocery home-delivery trial" as it embarks on a year-long trial with self-driving car AI developer Wayve.
First rolling out in Park Royal, north-west London, the trial covers 72,000 households and will deliver to homes through Wayve's AV2.0 solution, which uses machine learning to train its AI software to learn from experience how to drive in any environment.
Future adoption
Numerous retailers around the world have started to think about autonomous deliveries as a way to serve customers and cut costs, with some more ahead than others.
In China, Alibaba has developed autonomous robots named Xiaomanlv, which translates as "little donkeys". These robots have been delivering to university campuses across China since September 2020 and by March 2022 had delivered more than 10 million parcels.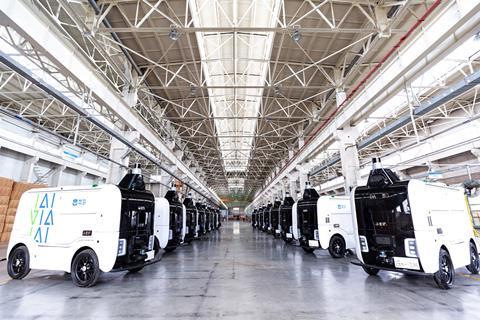 IGD global insight leader Toby Pickard says as more retailers test autonomous delivery vehicles they will evolve and become increasingly common.
He highlights the benefits of driverless deliveries: "This can help retailers address challenges around profitability of last-mile delivery and help overcome the challenge of recruitment and retention of delivery drivers.
"For customers, driverless deliveries can enable shoppers to get food and grocery products delivered at any time to almost any location; this is particularly true with small and aerial autonomous delivery solutions."
A decade ago, Amazon founder Jeff Bezos revealed plans that the company was working on Prime Air – a drone delivery service that would autonomously fly packages to customers.
Many tests have occurred since 2013, including a successful trial in Cambridge in 2016, and tests are still ongoing.
With technical glitches and multiple failures, Amazon is now expecting its new MK30 drone to come into service in 2024 – more than a decade after Bezos first vocalised the idea.
Ocado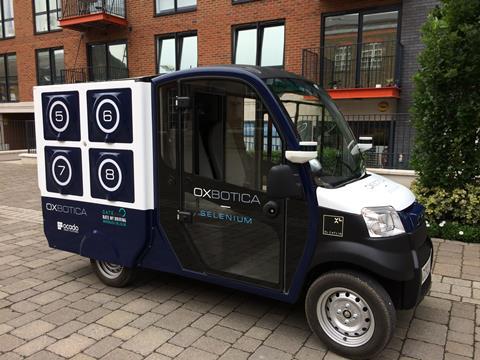 Online grocer Ocado has also partnered with Wayve in a similar 12-month trial to Asda.
It invested £10m in Wayve back in October 2021 and also invested an additional £10m in autonomous vehicle software company Oxbotica in a bid to reduce logistics and delivery.
With Wayve, it will soon start testing driverless delivery on routes in urban, busy areas of London.
Current roadblocks
In order for retailers to integrate driverless deliveries into the supply chain, Pickard says regulatory restraints will need to be addressed.
KPMG UK principal future mobility consultant Max Rouse agrees, saying driverless deliveries have the potential to reduce delivery time and costs, but the scale of adoption depends on many factors including regulatory approval.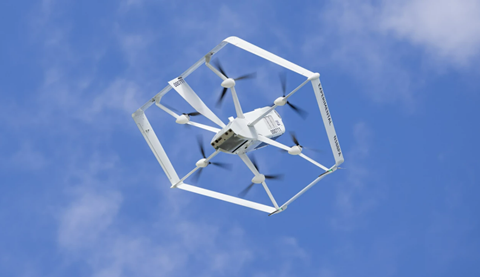 Most driverless vehicles only possess level two of autonomy – including Tesla, which can currently do self-parking, automatic lane changes, lane centring and traffic-aware cruise control, but the driver is required to be hands-on and constantly supervising.
The UK government is planning to have self-driving vehicles on the roads by 2025, but lawmakers are yet to set out a proper framework for rules and regulations on safety and accountability for any errors.
Pickard says: "Driverless deliveries will require staff to oversee the operation. This could be staff remotely watching the delivery, but in larger vehicles staff are likely to oversee the delivery from within the vehicle."
As this is still in the early stages, it will take a lot for consumers to fully embrace and understand the technology behind them.
Rouse says: "To ensure that autonomous deliveries are not just trials, retailers will need to build trust with customers by proving that the technology is safe, reliable and will provide them with tangible benefits such as decreased costs or improved flexibility.
"Alongside this, organisations will need to have a clear technology roadmap that addresses any remaining barriers to adoption, such as concerns around liability in the case of accidents, any required infrastructure development such as 5G and data-sharing agreements with any key industry or government stakeholders.
"To effectively do this, close collaboration will be required across a diverse range of stakeholders such as road authorities, insurance providers and technology companies."
The Co-op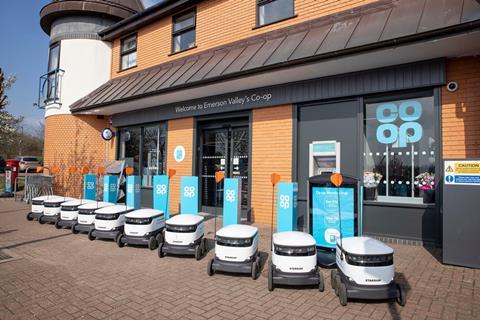 In collaboration with Starship Technologies, the Co-op started rolling out autonomous robot deliveries in 2018 in Milton Keynes.
The scheme has since expanded to Northampton, Bedford, Cambridge and Leeds, and in March it launched in Sale, Manchester.
The robots travel along pavements and cross streets, and are equipped with a "situational awareness bubble" that helps them see 360 degrees, avoid obstacles and identify objects.
As many retailers are still in the trial stages, it seems that we are still a few years away in seeing driverless deliveries really come to fruition.