John Lewis has taken a number of risks with their omnichannel strategy that could ultimately determine overall performance.
John Lewis' recent results reported sales rose 6.7% to £91m in the week to October 22 which was driven by an 8.7% increase in sales of electrical and home technology items.
Given this success, how does the new managing director, Paula Nickolds, apply her commercial judgement and focus to drive even greater profitability and success?
Can John Lewis do so without compromising their clear values and proposition of being never knowingly undersold?
John Lewis has invested £150 million into their Milton Keynes depot to support their commitment to following customers online.
Segmenting the offer
Starting with the positives, John Lewis' womenswear was the standout performer in the recent results announcement with a 21.4% increase in sales.
Comparing its website with M&S highlights a number of reasons why their results are different.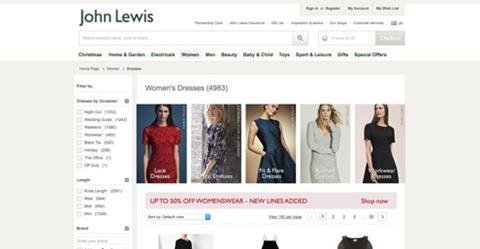 Just like any good retailer, John Lewis helps the customer follow their interest by segmenting them into sub-categories early in the sales funnel.
In comparison, M&S use their prime retail space for a category advert.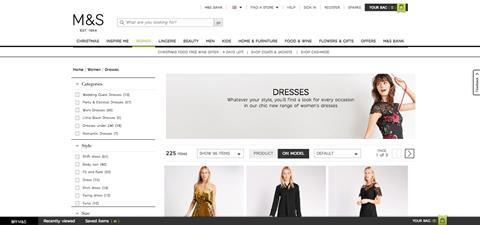 The approach of John Lewis is likely to ensure customers enter the funnel where they want to and move forward.
A lack of confidence
Opportunities for John Lewis to improve are demonstrated in the other growth category of electrical and home technology.
Their 8.7% increase was driven largely by mobile. Is this where John Lewis could find additional and faster growth?
In comparison to their womenswear execution where they segment and present their products to help customers make an informed decision, their electrical execution loses some of the clarity and in comparison to the online challenger, risks losing some of the richness that customers feel when they visit the physical store.
In the sub-category for fridges and freezers, AO.com, like John Lewis in womenswear, uses images to segment customers quickly to their preferred category.
In comparison, John Lewis are less confident of the clarity of the proposition and dedicate the prime retail space to presenting the range of delivery options introduced by the likes of AO.com.
More interestingly, the prime call-to-action to 'Shop now' (see red box below) directs customers away from the category into the broad electricals category.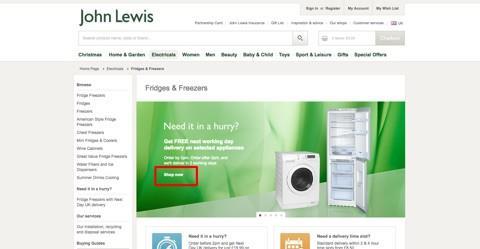 Buying guides
John Lewis guides are less easily accessible and though full of useful information, fail to encourage the customers to re-enter the funnel.
This would not happen in a store when the expert advice is given and the adviser will be looking to close a sale.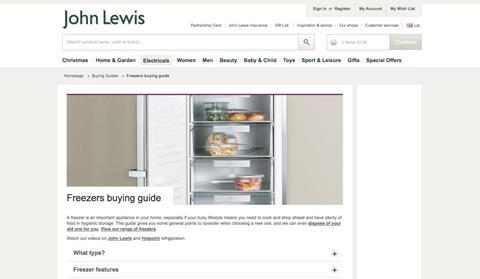 John Lewis could improve funnelling of customers back into the buying process by removing these barriers to purchase.
AO.com increases the likelihood that the customer will re-enter the funnel by including its 'Shop now' call-to-action again.

The smartphone barrier
Finally, electricals and in particular mobile phones on sale at John Lewis highlight the ongoing tension for retailers who want to deliver a successful omnichannel strategy.
We know from working with other retailers that the biggest barrier to purchasing a smartphone is when it is presented without a contract – the cost is upwards of £700 and the vast majority of customers are not willing to part with such a large amount of money.
John Lewis has taken this on board and established a partnership with Vodafone to address this need.
However, their execution is not as effective as it should be. The proposition is hidden away within the site, away from the mobile phone product and transaction page and therefore not integrated into the sales pitch.
And so what?
The only way to quantify the risks is for the leadership to demand specific data that does just that. Nickolds should initiate this now.
Customers will tell you why they don't buy – but only if curated carefully and thoughtfully. That's something that John Lewis are not doing and should.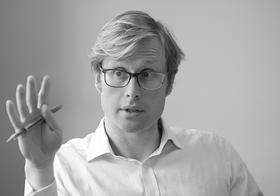 James Hammersley is the co-author of Leading Digital Strategy. He is a founding partner of Good Growth, and has worked with O2, The Economist, Game, Ann Summers, The Guardian, Barclays, Bupa and Manchester United FC. For more information, visit goodgrowth.co.uk