Selfridges' new Thai and Austrian joint owners are planning a revamp of its Oxford Street flagship that would include an upmarket hotel and food hall.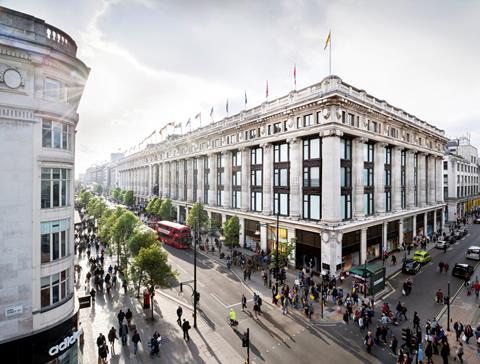 The new owners of Selfridges, which was recently sold by the Weston family, believe they can unlock substantial further value in its Oxford Street flagship by diversifying its current offer.
Thailand's Central Group and the Austrian property firm Signa bought Selfridges for $5.4bn (£4bn) from the Weston family last week.
Executive chair of Signa Dieter Berninghaus told the Financial Times that adding a hotel and apartments to Selfridges' London flagship would add "significant value".
"The purchase price merely reflects the valuation of the main Selfridges building and its retail utilisation," he added.
A section of Selfridges' Oxford Street store has been largely unoccupied since the Selfridges Hotel closed in 2008, except for pop-up experiences such as an indoor skatepark.
Berninghaus said Signa and Central Group, which also co-own Italian department store Rinascente, Swiss luxury operator Globus and the KaDeWe group in Germany and Austria, plan to upgrade Selfridges' existing food hall.
"We plan to trade up the food hall of Selfridges – that is one of our core competencies we have in the group, in KaDeWe and in Globus: we operate the best fine food delicatessen business in the world," he said.
Signa and Central Group both acquired a 50% stake in Selfridges after former owners the Weston family launched an auction for the business last summer, which attracted potential suitors including Hong Kong's Lane Crawford and the Qatar Investment Authority.
As well as the Oxford Street flagship, Selfridges has stores in Manchester and Birmingham as well as the de Bijenkorf chain in the Netherlands, Brown Thomas and Arnotts in Ireland and online operations, all of which fall under Signa and Central Group's ownership.
Never miss a story – sign up to Retail Week's breaking news alerts