Sales up 15.7% to £85.9m at John Lewis in the week to January 16
Waitrose sales remained flat over the week
Electricals and home technology was the star-performer at John Lewis with sales soaring 19.7%
Fashion sales grew 16.2% and home ended the week up 11.9% on last year
A combination of the frosty weather and the final throes of John Lewis' January Sale helped revenue surge 15.7% to £85.9m last week.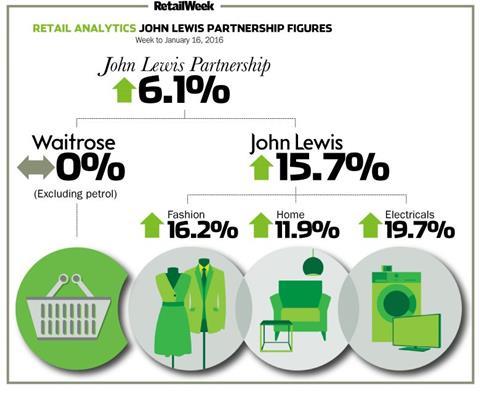 The electricals and home technology category was John Lewis' star performer in the week to January 16 with sales jumping 19.7% year on year.
Fashion sales surged 16.2% as customers bought both Sale and new season lines.
Its home division also notched up double-digit growth with sales up 11.9%. John Lewis director of selling David Barford said furniture had performed especially well over the week.
Barford said its shops had a particularly strong week with Ashford, Poole, Peterborough, Stratford and Glasgow standout performers. However, online sales continued to surge, recording a 30.8% uplift year on year.
Waitrose trading
Meanwhile, sales at sister grocery chain Waitrose remained flat over the week.
Both ambient and meat, fish, frozen and dairy sales dipped 1.3%. However, the home and leisure category had a stellar week with sales up 11.7%
Waitrose's premium range of ready meals performed well as shoppers opted to eat "restaurant-quality" meals at home. Favourites, including cottage pie, beef bourguignon and fish pie, were all up by 19%, while sales of shepherd's pie and lasagne grew 37% and 41% respectively.
Customers also purchased lines associated with more affordable luxury dining. Shellfish sales surged 37%, exotic fish sales grew 19% and caviar sales increased 29% as customers pushed the boat out.
The colder weather led to shoppers seeking out warming British dishes. Sales of Waitrose chicken pie surged more than 50% while its Aberdeen Angus steak and ale pie jumped more than 15%.