John Lewis weekly sales climb 3% to £155.2m
Purchases made on mobile and via John Lewis app soar 43%
But sales at Waitrose dip 1.4% despite strong performance of alcohol ranges
John Lewis sales were up this week despite the mild weather, with sales of gifts and gadgets soaring in the run-up to Christmas.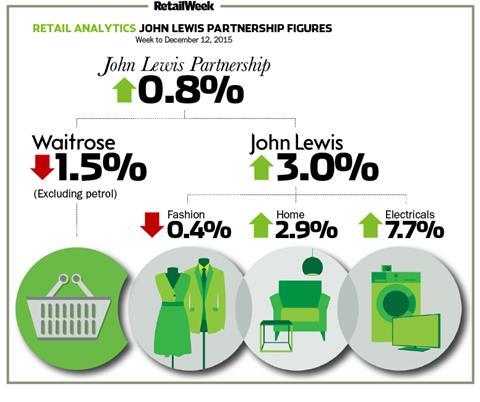 In the week ending December 12 sales were up 3% year-on-year to £155.2m as online revenue climbed 15%. This rise was mainly powered by sales on mobile devices and through John Lewis' app, with purchases jumping 43%.
But there were contrasting results for sister retailer Waitrose, which reported a 1.4% drop off in sales, excluding fuel, during the period.
John Lewis' retail director Mark Lewis said: "Despite the mild weather it was a strong gifting week and as we go into the last shopping weekend before Christmas the indication from our customers is that there is still a lot of shopping to be done."
Sector breakdown
Electricals and home technology led the way for John Lewis this week, with sales up 7.7%. Sales of communication technology were up 30.5% and gaming technology was a star performer as sales leaped 149.3%.
Consumer electronic accessories increased 20.8% and sales of media streaming devices like Apple TV and Google Chrome shot up 148%.
Toys sales also jumped 200%, buoyed by purchases of Star Wars Lego.
After a strong few weeks fashion sales took a hit and sales were down 0.4% overall due to mild weather. Womenswear sales were responsible for this dip although sales of jewellery and handbags were up 15.6% and 5.4% respectively.
Home sales rose 2.9% overall with sales of mattresses increasing 28.2% and lighting up 9.5%. Christmas decorations continued to gain momentum as sales rose 8.5%.
Waitrose
Waitrose said its sales dipped 1.4% despite strong performance from "store cupboard items" and alcohol, as shoppers geared up for the festive celebrations.
English wines posted sales growth of 80% during the seven-day period and the upmarket grocer said six out of 10 bottles of English wine are now purchased at its stores. Malt whisky and tequila reported sales uplifts of 12% and 10% respectively, while mixers including lemonade grew 23%.
Waitrose said that other Christmas products including organic mine pies, sausagemeat and fruit de mer seafood proved popular selections among myWaitrose customers in their Pick Your Own Offers lists - which allows shoppers to pick up to 10 items to save 20% on every time they shop.
But that wasn't enough to stop overall sales falling during the week. It comes after forecasts from IGD predicted that seven out of every 10 UK consumers would shop at discounters Aldi and Lidl over Christmas in the hunt for bargains.