Like-for-like sales rose 0.5%
Total sales were up 1.4%
Clothing like-for-like sales increased while furniture declined
Overall retail like-for-likes grew last month as clothing purchases increased while furniture sales declined for the first time this year.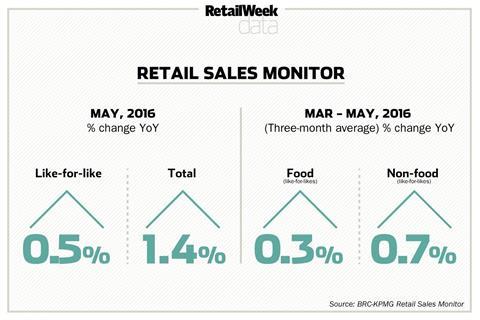 Total industry sales climbed 1.4% in the four weeks to May 28, up 0.5% on a three-month basis and 1.5% on the 12-month average according to the BRC-KPMG Retail Sales Monitor.
Clothing purchases generated an increase in like-for-like sales for the first time since January after reporting the worst decline in sales since September 2014 last month.
KPMG head of retail David McCorquodale said: "Fashion sales finally lifted following a tough three months of trading for retailers.
"The appearance of some spring sunshine encouraged consumers to hit the sales and take advantage of early summer promotions."
Footwear also sold well last month driven by purchases of children's shoes.
By contrast, furniture like-for-like sales fell in May after several months of strong trading and was the worst performing category overall.
Total food sales rose 0.3% but were down on a like-for-like basis, while non-food sales were up 0.6% Toys and baby equipment pulled in the best sales performance overall.
BRC chief executive Helen Dickinson said: "Today's figures bring better news for the UK's retailers.
"However, with signs that the UK's economy is slowing it's unlikely that this is the beginning of a complete reversal of fortunes. The uncertain outlook means that customers will remain cautious with their spending, therefore we expect sales figures to remain volatile for the time being."
"With a summer of sport kicking off in June and festival season getting under way, retailers will be hoping that the feel-good factor, coupled with a dose of summer sunshine, will keep the tills ringing over the summer months," added McCorquodale.