The latest Family Spending report confirmed one of the most important trends to hit retailers in the past decade: a spending shift to the over-50s.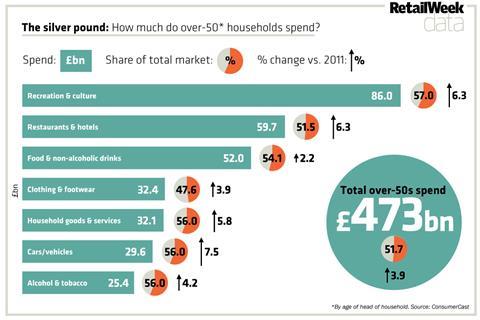 The report, the government's snapshot of consumer purchasing patterns, highlighted expenditure share across a wide range of spending categories was moving away from younger households towards older ones.
For example, in food and non-alcoholic drinks, the share of over-50s is up 2.2 percentage points in the past five years, to 54.1%, while in clothing and footwear it is up 3.9 percentage points, to 47.6%.
According to overall estimates for 2016, 51.7% of consumer spending, £473bn, is credited to over-50s households, which overtook their younger counterparts for the first time in 2015.
Over-50s account for nearly three-quarters of spending growth in the past five years – but what is driving this transfer in purchasing power?
Foremost, the UK has an aging population. The number of households headed by over-50s has jumped by 1.3 million in the past five years, to about 15.2 million, while younger age categories have flatlined or even shrunk.
Younger households have not recovered fully from the last recession and have been hit by adverse job market trends. For example, in the 30 to 49 age group, wages have risen by just 11% in the past five years, against 30% for 50 to 64 year olds.
The over-65s group has fared the best. Not only have they been protected by the government's 'triple lock' state pension guarantee, which has helped push up benefits received by 15% in the past five years, but for many income from occupational pensions has rocketed.
Since 2011, when the default retirement age ended, increasing numbers of over-65s have stayed in work, boosting their finances further.
The question for retailers is how to take advantage of this change when previously most have been focused on targeting younger consumers.
Five key spending trends
1) The over-65s are sprucing up their homes
Household goods and services spending by 65+ households is up 57% in the past five years, to £15bn, led by furniture and furnishings, while the 30 to 49 spending has risen just 12%.
2) They're spendin on experiences
Recreation and culture expenditure by over-65s – covering everything from hobbies to TV subscriptions and health clubs – is up 61%, to £39bn since 2011, with package holidays jumping by 81%. 30 to 49 year olds have upped spend on recreation by 11%.
3) They're splashing out on cars
Spending on cars and other vehicles by 50 to 64 year old households has jumped by an estimated 61% in the past five years, reaching nearly £19bn last year.
4) They're spending more on alcohol
Expenditure on alcoholic drinks and tobacco by over-65s households is up by nearly half again since 2011, to £11bn, while the under-30s have cut back by 17%.
5) Rising rents are hitting 30 to 49 year olds
As they are squeezed out of property ownership by high prices, the amount paid in rent has jumped 30% in the past five years, to nearly £19bn.
Silver fashion – an ignored market?
Fashion is the retail sector where the issue of how best to serve the over-50s has attracted the greatest attention.
Ed Watson, global communications director for digital fashion group N Brown, whose flagship brand JD Williams targets women over 50, says: "40 to 60-year-old women make up 17% of the population, yet these women are telling us that they feel ignored by fashion retailers in terms of the images shown on TV, in magazines and other adverts."
According to Watson, two-thirds of this age group wish there was a wider selection of shops catering for them and three in five feel that the high street forgets about them.
"They are not seeing aspirational images that are of a similar age group to them promoting clothing," says Watson. "Yet one study in the US showed that people were two-thirds more likely to purchase a fashion item if the item or outfit was actually displayed on a model that was of a similar size, colour and age to them."
At London Fashion Week this week, JD Williams staged a protest with models aged between 40 and 65 standing outside the shows holding 'London Fashion Week: grow up' placards.
Only one show – Simone Rocha's – used a model aged over 60. But this market has a huge disposable income. Watson says: "There is a big disconnect for many high street retailers between perception of who their customer is and who their customer really is, and also what their customer wants."
M&S' subtle approach
While JD Williams has overtly targeted older customers, other retailers have taken a more subtle approach.
According to a M&S spokeswoman, it does not target customers by age, but through shared attitude.
For example, in food it focuses on their love for high quality, interesting products.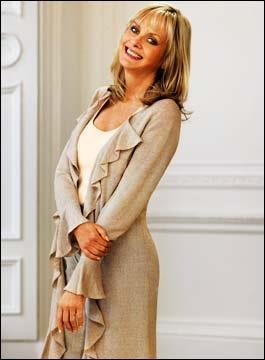 In 2014, M&S featured Emma Thompson (then 54) and Annie Lennox (60) in its Leading Ladies advertising campaign, and it still offers its Designed by Twiggy collection.
But while its website currently includes styling and beauty tips for women on how to be "grey haired and fabulous", the majority of the models featured appear to be in their 20s or at most early 30s.
The spokeswoman pointed to the use of 55-year-old actress Janet McTeer as Mrs Claus in its Christmas 2016 TV campaign and Twiggy (67) as evidence of its commitment to including women of all ages in its advertising.
In other retail sectors, the rapid growth in grey spending power appears to have attracted less attention.
This is despite shoppers aged 50+ making up more than half of the customer base of many, including B&Q, Homebase, Lidl, Morrisons and Sainsbury's, according to survey data for ConsumerCast.
How to silver-focus your business
Retailers need to consider whether they are silver-focused across a whole range of areas, from advertising (are you actively including them in your ads), to staffing (do you have a diversity of ages?), to store design (lighting, music, comfort levels, in-store cafés and restaurants) and customer service (do your staff have more product knowledge than these often highly experienced consumers?)
Far from going away, the increase in the importance of the silver pound is set to continue, driven by demographic trends coupled with government cuts to working age benefits and increasing tax take, as well as rising spending on pensioners.
There is also the prospect of a weakening of the jobs market, the main driver of prosperity for younger households.
Over the next two years, total household spending by both under-30s and 30 to 49 year olds is forecast to rise by just 3%, while for 50 to 64 year olds the pace of growth will be more than double that, at 6.8%, and for the over-65s even higher at 6.9%.
Retailers must tap into the growing spending power of older shoppers, or face stagnant sales.
Potential winners in the next two years
Marks & Spencer: With over half its audience accounted for by over-50s and very few under-30s, and more than a third of customers in wealthier AB socio-economic groups, it is likely to be less exposed to adverse trends like a weakening jobs market and rising rents.
Waitrose: Waitrose has an even more upmarket audience (44% are ABs) and even older (51% over-50s) so should benefit from the continued growth of 50+ spending in the next two years.
B&Q: Nearly 55% of B&Q's shopper base is 50 and older, which should insulate it from some of the economic problems, despite the prospect of price competition from Bunnings.
Potential losers in the next two years
Next: A lack of over-50s and a very heavy concentration on 30 to 49 year olds (52% of its audience), coupled with exposure to middle and lower middle income consumers mean Next is very vulnerable to a deteriorating employment market and slow spending growth by its core audience.
Sports Direct: Very heavily exposed to the 30-49 year olds, particularly the less prosperous C2 socio-economic group, which could be hit by a jobs market slowdown as well as working age benefit cuts.
Primark: With a tiny over-50s audience (just 29%) and a downmarket slant (46% C2DEs), Primark is very vulnerable to increasing financial pressure on younger consumers, particularly under-30s.
Note: Data from ICM on behalf of ConsumerCast, February 2017
Robert Carruthers is an independent retail analyst and director of ConsumerCast.