Sportswear retailer makes TV ad debut to bolster its position and drive global profit ambitions.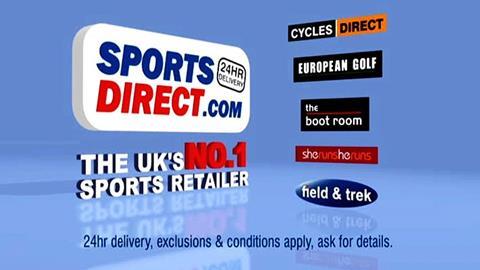 Sports Direct is running its first TV ads to secure its position as the leading UK sportswear retailer.
The ads started last week during prime-time slots such as the Coronation Street break. The sports retailer is testing several variations and will assess customer feedback before driving forward with a bigger push.
A Sports Direct spokesman said the retailer realises that to move forward it needs to promote the brand. The ads are also likely to help Sports Direct drive its global ambition to become Europe's most profitable sports retailer. If successful in this country the ads may be replicated in international markets.
The ads - the cost of which has not been disclosed - highlight deals on the retailer's own-brand offers and newer categories like bikes.
One analyst said the move into TV advertising could indicate that things have "started to slow down" for the retailer. She added it may also be part of an effort by Sports Direct to remind consumers of its lead position in the market as rivals, which have struggled in the past few years, begin to strengthen. "As the brand matures, it is more about exerting its authority," she said.
Separately, Sports Direct and Blacks were locked in a mud-slinging match over Sports Direct's potential bid for its rival.
As Retail Week went to press Sports Direct was considering increasing its 62p-a-share indicative offer, which has been described by Blacks as "wholly inadequate".
Analysts believe Blacks' shareholders would need a bid close to, or in excess of, £1 a share - which is the management incentive scheme target - before accepting it as many have invested for "long-term growth".
Sports Direct last week threatened to report Blacks to the Takeover Panel, claiming it had "selectively disclosed" information about suppliers that would or would not supply Blacks if it was sold to its rival.
Today is the Takeover Panel's deadline for Sports Direct to "put up or shut up" about buying Blacks.