Habitat has been accused of trying to hijack interest in the Iranian election to drive users of the blogging site Twitter to posts about its special offer and Sale.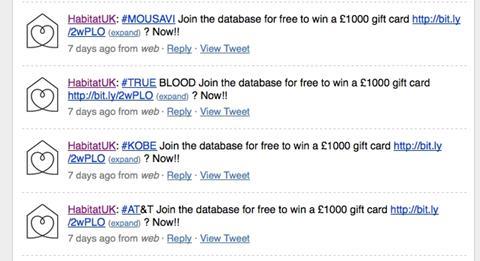 According to Sky News Twitter correspondent Ruth Barnett, Habitat added keywords connected to the Iran, such as the surname of presidential candidate Mirhossein Mousavi, to its Twitter posts about special offers.
Th upmarket furniture retailer also used other popular keywords including "iPhone" and "Apple" in its messages on Twitter.
Habitat's behaviour has received much criticism from other Twitter users. The messages have now been deleted from Habitat's twitter account, which can be accessed at www.twitter.com/habitatuk, but some can still be seen using the micro-blogging site's seach facility.
Sky News Online has reported a Habitat spokesman as saying: "This was a mistake and it is important to us that we always listen, take on board observations and welcome constructive criticism. We will do our utmost to ensure any mistakes are never repeated."
Follow @retailweek on Twitter for all the latest retail news headlines