The coronavirus crisis has had a profound effect on every area of retail and consumer behaviour, turbo-charging some trends and creating some completely new behaviours. Looking ahead to 2021, Retail Week considers some of the trends that may emerge.
Going gourmet
Periodic lockdowns encouraged people to expand their culinary repertoire and experiment in the kitchen.
Many people, perhaps missing international travel, used the additional time at home to explore exotic flavours.
This phenomenon was captured by Waitrose's latest Food and Drink report, which revealed that sales of mirin and other Japanese rice wines jumped by more than 100%. The supermarket also reported a rise in foraging and at-home fermentation.
"Chef-inspired meals, food plating techniques and garnishes are trending up"

Pinterest
According to Pinterest's 2021 predictions, this trend is only going to continue into the new year, with customers looking to recreate the restaurant experience at home.
Searches for 'gourmet food plating' on Pinterest's site are up 105% this year and 'home-made tea recipes' are up 60%, while searches for 'bread art' are up a whopping 130%.
Pinterest says: "Pinners will get fancy in the kitchen and recreate restaurant experiences at home. Chef-inspired meals, food plating techniques and garnishes are all trending up."
Skincare is self-care
With bars and restaurants closed, social plans cancelled and offices shut, many in the beauty industry could have been forgiven for fearing the worst from 2020.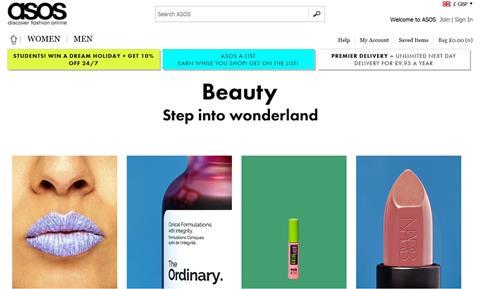 However, John Lewis says its customers turned to health and beauty as a means of self-care during the pandemic.
Sales of skincare and haircare products were up a whopping 234%, while vitamin-C product sales were up 248%.
Sales of multifunctional serums also rose 168%, while lip balm sales grew 121%.
Skincare sales at Asos also soared 94% over the year.
John Lewis says the focus on skincare has helped boost overall beauty sales, with customers' average spend for the year increased 6.2% per item.
This trend will continue into 2021, according to the department store.
"Products that promote and support inner beauty, sleep and relaxation will be key"

John Lewis
"Beauty will become a totally holistic experience as wellbeing becomes permanently part of the beauty journey," John Lewis said.
"Every product will need to make you both look good and feel good – we call this the 360 beauty experience.
"Products that promote and support inner beauty, sleep and relaxation will be key; our new wellness concept will support customers with this."
Au naturel
Tying in with the focus on skincare is a move away from overly made-up beauty looks.
Pinterest predicts that consumers will banish the caked-on makeup look in favour of letting their natural skin shine through.
The social network says searches for 'naturally glowing skin' are up four times this year, while 'natural everyday makeup' searches are up 180%.
John Lewis concurs, saying 2020 was a year when consumers – who were putting on less makeup – moved away from the idea of flawless and found peace in their own skins.
It says many customers now want "low-maintenance WFH [work from home] makeup routines", which also "taps into a wider cultural mood for inclusivity and diversity".
In 2021, John Lewis predicts health and beauty companies will develop products that "enhance the appearance of a natural complexion".
The era of the "pristine Insta-brow" is also over, apparently, with the department store predicting a return to "a fluffier, bushier look" in the new year, with sales of microfilling pens set to rise for this purpose.
Indie evolution
The coronavirus crisis has sparked a real reckoning for bricks-and-mortar retailing in 2020.
More than 11,000 UK stores closed in the first half of the year, according to figures from the Local Data Company and PwC, with the collapse of former high street heroes such as Debenhams, Arcadia, Cath Kidston, Oasis and Warehouse – to name just a few.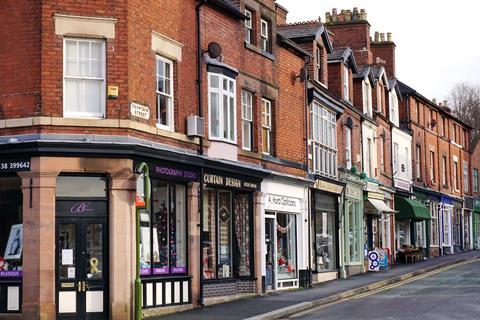 While this has left gaping voids on many high streets and shopping malls up and down the UK, all is not necessarily doom and gloom.
There has been a surge of support for local independent retailers, particularly with people spending more time working and living in their local neighbourhoods.
In Shopify's Future of Commerce report, 65% of consumers surveyed said they support local businesses, while 50% said they actively looked for local businesses to shop with.
"Consumers want to shop independent," said Shopify.
"Independent brands that improve their discoverability and fulfilment capabilities are poised to succeed."
Meanwhile, seven in 10 UK shoppers expect to visit local independent shops and businesses in December, with £6.2bn predicted to be spent at such outlets, according to research from American Express.
"Retailers can cherry-pick space right now. If you're looking for space, don't waste a good crisis"

Stephen Springham, Knight Frank
The credit card provider also found that four in 10 shoppers said they had spent more with local businesses since the pandemic hit in March, with 80% of these planning to maintain or increase this level of spend in 2021.
This surge in support for local retailers could lead to independents taking up some of the vacant space on the high street.
Stephen Springham, head of retail research at property firm Knight Frank, said: "There are lots of retailers that are just starting out and there are decent deals to be had.
"They can cherry-pick space right now. If you're looking for space, don't waste a good crisis."
The rise and rise of meat substitutes
Despite many consumers seeking comfort food in the early months of the pandemic, the ongoing growth of the meat substitute market has continued apace in 2020.
Meat substitute manufacturers such as Beyond Meat and Meatless Farm have continued to grow and all of the UK's major grocery players have launched their own vegan and alternative meat ranges.
Tesco is betting so big on meat alternatives that it wants to increase sales in its ranges by 300% year on year by 2025. Mintel predicts the alternative meat market could be worth more than £1.1bn in the UK by 2024.
"New egg substitutes are set to become one of the fastest-growing plant-based alternatives"

WGSN
According to food trend forecasters at WGSN, it won't just be meat protein getting the substitute treatment in 2021, but the humble egg, too.
"New egg substitutes replicating the look, taste and versatility of real eggs, but made from ingredients like mung beans, soya and chickpeas, are set to become one of the fastest-growing plant-based alternatives," it said.
WGSN head of food and drink Jennifer Creevy points to San Francisco-based Clara Foods and Just Egg as players to watch in this space next year.
Tie-dye and DIY clothes
With hospitality venues and many offices closed, 2020 was, if nothing else, clearly the year of the elasticated waistband.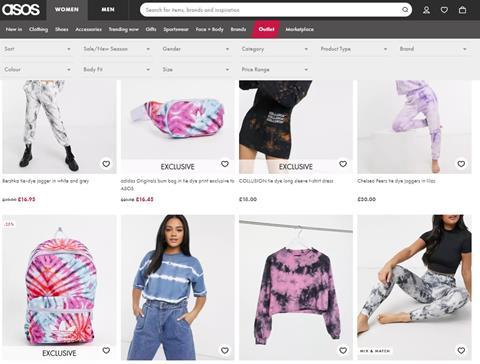 Sales in athleisure exploded, with Asos reporting jogger sales growing 156% and an 88% rise in sweatshirt revenue.
However, Asos says one of the other big fashion trends this year was tie-dye – particularly tie-dye accessories, with sales of psychedelically patterned socks, for example, exploding by more than 2,281%.
Asos predicts that the tie-dye craze will continue into 2021 with "hippie brights and acid washes set for success".
Consumers will not only be buying tie-dye, but creating their own clothing using the technique. In fact, making our own clothes is also a growing trend.
Pinterest says Gen Z consumers are particularly interested in the trend, with searches for 'sweatshirt embroidery' growing seven times, 'jean painting' up three times and 'DIY tote bag design' jumping 115%.
A safe space
One of the overarching themes to emerge from customer behaviour this year has been a focus on personal wellbeing.
With the world outside seemingly uncontrollable, consumers have felt driven to improve the spaces they live in and look after themselves as best they can.
According to data from Statista for November, sales of DIY tools were up 14.7% year on year and building materials were up 31.4%, while sales of paint were up more than 41%.
"Sleep care is the new self-care. Bedtime will be more luxurious than ever"

Pinterest
Pinterest believes 2020's DIY resurgence was down to customers essentially building themselves safe spaces in their homes and predicts this will lead to a continued focus on wellbeing and relaxation in 2021.
The platform notes that searches on its site for all things sleep-related have spiked massively and says: "Sleep care is the new self-care. Bedtime routines will be more luxurious than ever."
Pinterest also reported a significant increase in searches around bathing, with a particular focus on things like bath teas and a 145% increase in searches for free-standing, deep-soaking tubs.
"This year, you'll see people carving out time for an extra-special soaking experience," it said.