The Comet name is to return to the high street after entrepreneur Clive Coombes unveiled plans to launch a chain of new electricals stores.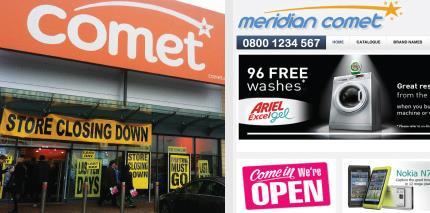 Clive Coombes, who had unsuccessfully fought to acquire Comet after it collapsed in November, is poised to launch a new retailer named Meridian Comet.
Property tycoon Coombes intends to build the fledgling retailer through private investment before floating on AIM. He is targeting 80 high street shops in two years.
The first Meridian Comet store is scheduled to open in the next two months in the Southwest. The retailer has formed ties with high-profile brands including Apple, Canon and Sony and will replicate Comet's range, from appliances and computing to audio.
Coombes told Retail Week he is confident he can succeed where Comet failed by operating smaller high street shops, which will be 3,000 sq ft compared with Comet's former 12,000 sq ft retail park stores. There will be a focus on leisure to drive footfall because competition with etailers remains fierce.
The stores will offer shoppers free soft drinks and feature dedicated areas where customers can play on the latest games consoles. Coombes outlined his plans on the fledgling retailer's website, meridianwholesaleltd.com.
Coombes said: "Comet left a big gap in the market. Dixons is the only significant player in that market and we have identified a niche we're confident of making the most of."
Dixons said in June it estimated it had grabbed 30% of the market share left behind by Comet.
The Meridian Comet stores will carry minimal stock with orders fulfilled centrally. The retailer will offer free delivery and 60-minute slots for shoppers who order in store or over the phone. Its full range will be displayed online but the retailer has no immediate plans for an etail offer. Coombes said: "Everyone is going online because it's cheaper but in store we can offer the service and experience to make people want to come and shop."
Coombes has sought legal advice about using the Comet name, which remains in administration.
Coombes hoped to buy Comet out of administration and was poised to plough more than £15m into reviving it.
However, four of his bids were rejected by Comet administrator Deloitte.
He blasted Deloitte, claiming it was "only interested in the money they could raise by whatever method they deemed necessary". Deloitte was paid £8m to wind up Comet.
Coombes said the Government also had "questions to answer" about administration regulations. Comet's former owner OpCapita recovered £50m while the Government paid £23.2m of taxpayers' money to thousands of redundant staff. Business secretary Vince Cable's review of Comet's collapse is ongoing.
Deloitte declined to comment.