Asos UK sales have bounced back as the online fashion giant's price cuts paid off and the wet weather drove people online.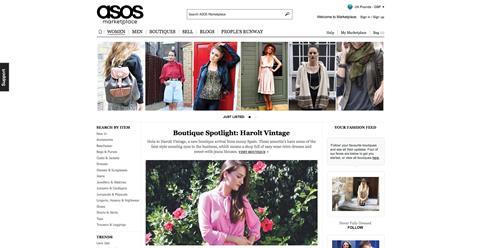 Asos chief executive Nick Robertson said sharpening some of its prices during the last quarter in a bid to keep hard-pressed twenty-somethings on side had driven stronger sales growth in the UK.
Domestic sales jumped 8% year on year in the three months to June 30 against a 4% rise in the three months to March 31. UK sales were under pressure last year, with growth bottoming out in the second quarter at only 1%.
"I'm glad to see the UK back where it is," Robertson said. "There's been lots of price adjustments rather than discounting."
Retailers including Supergroup have also vowed to slash prices by as much as 30% this year, as value becomes even more of a battleground in young fashion.
Robertson said the unseasonable weather had also given Asos a boost as shoppers avoided the high street.
He said: "A few wet, rainy weekends are good for business."
Overall, Asos's retail sales jumped 31% to £136.9m in its first quarter driven by soaring international sales, which now account for 65% of the etailer's revenue.
Its US sales surged 83% over the period after Robertson said it had "turned the heat up" on marketing in the region.
It is set to open an office in New York in the next couple of months and plans to open more offices in its other major sales territories.
Peel Hunt analyst John Stevenson said he expects the etailer's sales momentum to accelerate over the year as Asos implements its new web platform. It is set to launch more country-specific websites when the single platform is in place, including in China.