Asda has struck a partnership with Decathlon that will enable the French sports giant to pilot a shop-in-shop format for supermarkets.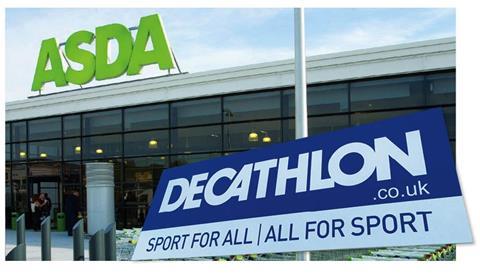 The tie-up fits Asda's strategy of finding new uses for excess space in its largest stores to transform them into destinations, and could pave the way for rapid expansion of Decathlon in the UK.
The big four grocers have struggled with vast sheds that are out of kilter with today's shopping habits.
Asda rival Sainsbury's inked similar deals with Argos and Jessops in the past six months as part of an initiative to "bring extra choice and convenience" to shoppers. Tesco has installed restaurants and cafes in some of its larger superstores.
The Decathlon trial will operate predominantly as a click-and-collect shop in Asda's Watford superstore and there will also be a limited range of items displayed for sale. Shoppers will be able to browse the full Decathlon offer on screens in the shop, it is thought. The shop will cover 1,290 sq ft.
If the trial is successful, the retailers are expected to roll out the shops across more branches, paving the way for Decathlon to gain access to Asda's 18 million shoppers and enable it to better compete with arch-rival Sports Direct, which similarly operates shop-in-shops in Tesco stores.
Decathlon, which has a 900-strong store portfolio globally, has found it difficult to expand in the UK because of the lack of large 50,000 sq ft stores available.
It has 18 shops in the UK and plans to open click-and-collect points to aid its expansion.
Decathlon has also revealed plans to open its 19th store - and its fourth store in London - later this year. The retailer said it will open a store in Wandsworth, as part of the area's new shopping centre development, in mid-June.
Last year Asda boss Andy Clarke revealed the grocer was in discussions with food and non-food retailers about them taking space in larger stores. "We're very open to working with partners, I think we'll see more of that going forward," he said.
Verdict retail analyst Andrew Stevens said: "Both of them are value-focused so you would think that consumers across both are fairly similar. It's good for Asda if it needs to rationalise space in stores and it's a really innovative way of doing that."