China's digital journey has many learnings for retailers, whether they are seeking a share of Chinese spend or want a better understanding of how tech can reshape retail.
As retailers tussle with digital transformation and what it could mean for their business, it is interesting to look to China to observe new retail in action.
Retail Week's latest report – Spotlight on China: the future of retail – produced in partnership with Yext, looks at how retailers can learn from the tech trends driving the country's thriving retail scene.
With 300 million middle-income earners, China has rapidly embraced ecommerce, with double-digit annual sales growth the norm.
And when China's rural population, estimated at 45% of the country's total, fully come online in the next five years those figures are predicted to balloon.

Retail ecosystems
Homegrown tech companies Alibaba, Tencent and JD.com have created entire ecosystems where consumers can browse a retailer's catalogue, share recommendations and offers with friends, as well as pay for goods all within an app.
The tech giants have created ecommerce marketplaces such as Alibaba's Taobao, a platform with 576 million monthly active users – equivalent to a 50% market share of China's domestic ecommerce market.
The success of marketplaces is partly due to getting a good deal on domestic goods but also feeding an appetite for quality foreign products.
"Their smartphones carry all the apps they need to find stores, receive discount codes and share social content with friends about their purchases"
Alibaba and JD.com have both created platforms for cross-border retail with categories including baby, personal care and beauty products as well as over-the-counter medicines experiencing the highest demand.
Marketplaces offer international brands a lower-risk way than bricks-and-mortar stores or concessions to test their appeal to the Chinese consumer's discretionary spend. They also expose consumers to brands and products that they might buy when travelling overseas.
When travelling, Chinese consumers aren't seeking a break from screen-gazing. Their smartphones carry all the apps they need to find stores, receive discount codes and share social content with friends about their purchases.
The key for brands and retailers seeking to attract Chinese footfall is to work within these existing systems and respect the tech that makes consumers tick.
Mobile first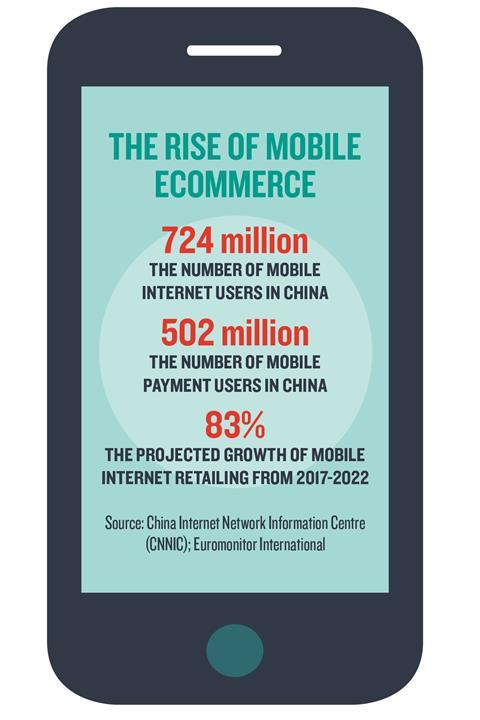 The love affair and reliance on the mobile phone has in part been nurtured by China's tech companies promoting on-the-go consumption.
Some 502 million people made mobile payments in 2018, accounting for three quarters of the country's mobile internet users.
Retail Week research also reinforces the idea that consumption is more social and collective than individual.
In a 2017 survey, a sample of Chinese consumers said they were most influenced to buy by family, followed by friends, colleagues and influencers.
Tencent's social communication platform WeChat allows consumers to share product purchases and recommendations, meaning that marketing is often viral and user-generated.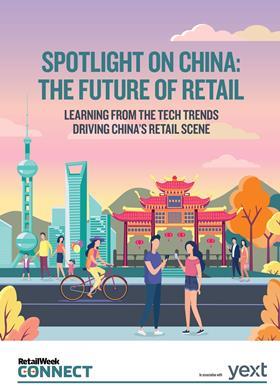 For more insight into the tech trends driving China's retail scene, download our report Spotlight on China: the future of retail today and find out:
The new entrants and key players in China's retail market
How the Chinese consumer likes to shop, share and influence
Ways to take a slice of the Chinese tourist in-store spend
Yext puts businesses in control of their brand experiences across the digital universe.