Blockchain technology is set to transform supply chains, ensuring validity of transactions, protecting data, reducing costs and vastly improving transparency.
Retail giants Walmart and JD.com have collaborated on an initiative to use blockchain technology to ensure food safety in China – and FMCG giants Unilever and Nestlé have also indicated they will get involved in the initiative.
What's more, IBM forecasts there will be mass adoption of the technology by the mid 2020s.
IBM forecasts there will be mass adoption of blockchain technology by the mid 2020s
However, despite being one of the key talking points at NRF in New York in January, understanding of blockchain technology is nascent and the UK is lagging behind in adoption rates.
Retail Week Connect's new white paper, Blockchain: the future of the supply chain, produced in association with IBM, tackles this head on and explains how the technology could create a smarter, faster, more secure infrastructure for your business.
Here are three ways this relatively young technology will de-risk your supply chain.
1. Increased transparency
Blockchain is an open-source, decentralised ledger – which means that everyone involved in a retailer's supply chain will be able to see it and add information to it, which then cannot be changed.
For example, this means that for a grocery retailer the same supply chain ledger would be seen and signed off by the growers, suppliers, processors, distributors, retailers and regulators.
2. Find errors faster
Product recalls are a costly and slow-moving process. But with blockchain, this process could be sped up or prevented.
Individual and unchangeable lines of code – known as smart contracts – for each aspect of the supply chain journey mean it will be easy to pinpoint exactly where an error was made.
Furthermore, because this line of code will only be added to the shared ledger once the task associated with it has been successfully completed, retailers will have a much higher level of quality control built into their existing supply chain.
3. Safeguarding authenticity
Grocery supply chains are the most obvious area for its use, but it will impact other sectors of the market too. For example, blockchain could also become a vital resource for fashion retailers seeking to combat speculation around warehouse working conditions.
And for retailers touting big-ticket or luxury items, the technology can be used to combat counterfeiting by offering buyers and customers unimpeachable records of their own supply's authenticity.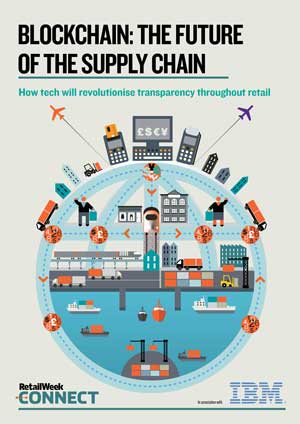 To find out more about blockchain, including how sectors such as banking are using it, and how it will combine with the internet of things to de-risk supply chains, alongside practical advice on implementation,
register to read our report today
.


UK entry point to information on business solutions, security solutions and storage solutions.