The Works has beaten the likes of Aldi and Primark to be named the fastest-growing value retailer in the UK, Retail Week can reveal.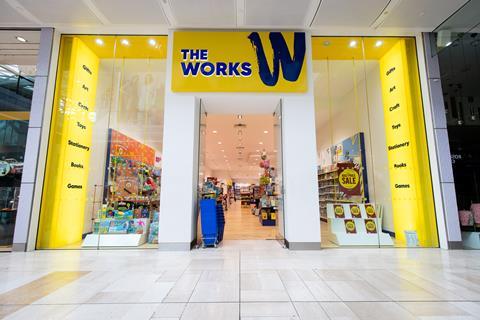 The retailer's sales grew 46.5% year-on-year in financial year 2021/22 to £265m, making it the fastest-growing discount retailer according to a ranking of the sector by Retail Week.
The Works tops the ranking of 15 players identified as value retailers by the Retail Week analyst team, which includes Primark, Aldi, Poundland, B&M and The Range.
The Works chief executive Gavin Peck told Retail Week the growth is partly on account of a strong turnaround plan, as well as moving away from a variety discount model to affordable family products.
Peck said: "We have set up a new purpose which is to inspire learning, reading, creativity and play, and we made our proposition much more focused around that.
"We started to align a brand and customer experience that's much more focused around that purpose and gives a better shopping experience. Our stores aren't as cluttered as they used to be, and we have more customer-focused ranges.
"We're starting to win new customers and we've started to change perceptions of people who probably came into The Works five or 10 years ago and were slightly overwhelmed with the cluttered, general discount, Aladdin's cave feel.
"We've gone from being kind of the business set up as a general discounter, almost selling anything to anyone, to being much more focused. The core of our business and the focus of our customer base will be on families and ultimately, kids."
Retail Week research director Lisa Byfield-Green said: "The Works saw a strong bounce-back after the pandemic, which accounts for its performance in 2021. It returned to the black in 2021 and continues to evolve its proposition, including capturing a bigger share of the back-to-school market.
"Its latest trading update for 2022 shows sales growth of around 6% and it has continued to benefit from footfall returning to stores and from customers aiming to save money in the cost of living crisis"