NRF is full of innovative ideas and the event provides a snapshot of the best the industry has to offer. Here are a few of the technologies on show.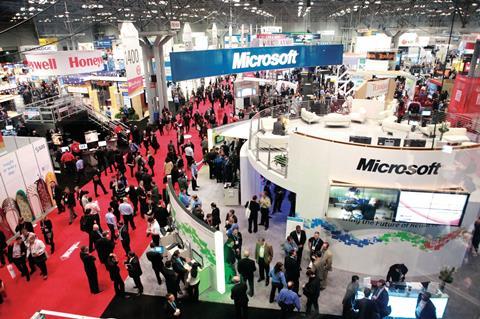 The expo hall at NRF is about more than just the hard sell - technology suppliers also compete for attention by showing off their latest gadgets and most impressive displays.
GameStop's digital store
GameStop is testing this technology with Microsoft through its GameStop Technology Institute. Wes Johnson, district manager for Austin, Texas shows us how it works.
MemoMi Mirror
The MemoMi mirror at the Intel stand lets you try on different colours, compare two outfits, and see yourself doing a 360 degree turn.
Epson's EZTouch
Touchscreens were everywhere at NRF but Epson went one further by showing off a Minority Report-style transparent version.
EBay's interactive wall
EBay designed an interactive wall that delegates could try out.
Wipro's drone
Wipro was demonstrating a drone as part of its Wipro Sight system, which provides shelf space analysis. The drone is used to take pictures of shelves across a store and feed information back to staff on what needs restocking. The business is trialling the technology with a consumer goods firm in Dubai.