With the launch last week of new payments service Laybuy in the UK market, Retail Week looks at whether 'buy now, pay later' will be the next big thing in retail. 
Last week, New Zealand payment provider Laybuy launched in the UK, partnering with Footasylum to offer 'buy now, pay later' to its customers.
Laybuy, which has more than 3,700 retail partners in Australasia, will go head to head with European market leader Klarna.
Swedish firm Klarna currently has more than 1.4 million UK shoppers using its services but vice president and managing director Luke Griffiths is aiming to get to around 4 million in the next few months.
Klarna counts Asos and Topshop as clients but it is not just a younger customer that buy now, pay later caters for. With a wide array of clients from furniture brands Natuzzi and Swoon to fashion retailers Finery and Cos, the appeal of buy now, pay later is broad.
The different pay later options
While the phrase buy now, pay later is a catch-all for these payment options, each platform is notably different.
Laybuy is a credit product, where Klarna is not. This means customers that opt to pay by Laybuy on a retailer's website - who aren't already signed up to the platform - are directed to Laybuy's own site to go through a hard credit check.
Conversely, customers that choose to pay by Klarna on a retail website face a soft credit check and are not diverted to another website, and a decision is made immediately.
Both payment solutions also differ in terms of the length of time customers can take to pay for purchases.
Klarna currently offers two different products: its buy now, pay later service – which allows for customers to purchase a product and pay Klarna back directly within 30 days; and 'pay in three', which allows customers to pay a third of the cost at the point of purchase and stagger remaining payments over 30- and then 60-day periods.
Laybuy customers meanwhile are given a limit, based on their credit check, ranging from £60 to £720. Customers can then purchase and receive a product immediately, while spacing out payments over six weekly instalments.
It also offers its retail clients 'Laybuy Global', which effectively mean if its UK-based retailers ship to Australia and New Zealand, Laybuy will handle all the foreign currency exchange and shipping costs.
Buy now, pay later payment solutions are also beginning to take off in the USA. Australia-based service AfterPay launched in the States in May 2018 and has Urban Outfitters, Anthropologie, Boohoo and Morphe as clients.
Customers using AfterPay make an initial payment when they purchase a product and three more payments to make up the full price of the purchase in fortnightly instalments.
Buy now, pay later is set to become increasingly common in the UK – but will shoppers start choosing which retailers they shop with based on the payment option?
Schuh director of ecommerce and customer experience Sean McKee has used Klarna's services for over a year and says it is helping to attract new customers.
"We're getting customers contacting us and asking to pay with Klarna, which is a new development. We can also see that of the customers who shop with us on Klarna, a very significant number of them already use the service with other retailers."
Schuh has seen a 40% increase in conversion from customers on mobile, and a 25% conversion increase on desktops with Klarna's buy now, pay later service.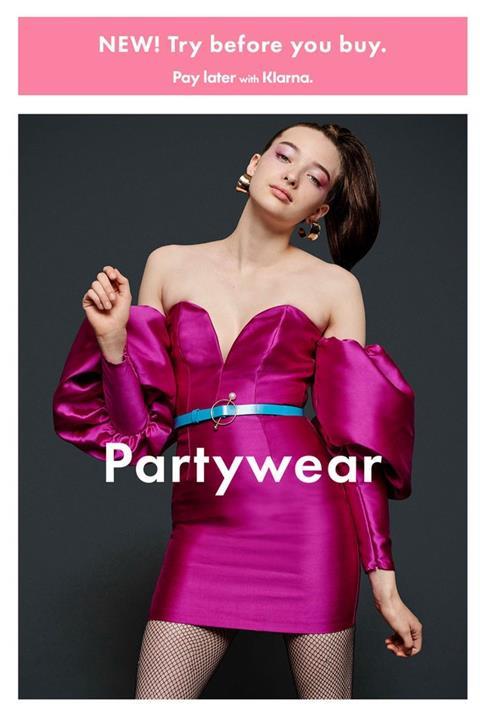 Griffiths says shoppers are "hunting out stores and brands" that offer buy now, pay later services in the UK. He says Klarna is experiencing "high levels of customers using its online store directory" with over 250,000 hits per month searching retailers partnered with the service.
The option is also encouraging shoppers to spend more. At Topshop owner Arcadia's brands, which all have Klarna as a payment option, average order value has jumped 80-90% when compared to other payment types.
Laybuy managing director Gary Rohloff says customers are "increasingly driving retail behaviour because they are demanding more choice" in how they pay for goods. He says clients in Australasia have reported new customer acquisitions of "upwards of 30%" on the platform.
Accenture managing director of payments, UK and Ireland, Sulabh Agarwal says payment solutions such as Klarna and Laybuy are "producing simple, streamlined experiences that modern consumers have come to expect".

For example, after shoppers have made their first purchase with Klarna, future checkout forms are complete with just one-click with all retailers within the Klarna network.
New ways to pay
Agarwal believes "innovative checkout technologies" – such as Apple and Android Pay, contactless card payments and direct bank transfers – mean customers "no longer want to be restricted by traditional payment methods".
"Combined with other innovations in the delivery and customer services space, they will draw in new consumers," he adds.
Griffiths says reducing as many of the "speed bumps" in the purchasing procedure as possible is what Klarna is trying to do.
"We want the payments process to be as frictionless as possible. We talk about offering a really smooth experience because you're taking friction away from that buying process, in a very similar way to what Uber offers, for example," he says.
For McKee, offering a service like Klarna to consumers is merely one part of its payment solution. He thinks a suite of products is needed to simplify the process of buying products on mobile, online and even in-store.
McKee says Schuh has recently introduced "mobile point of sale" functionality in stores, which has drastically reduced average transaction time.
"It's much quicker for the customer, it allows us to offer an e-receipt, and it allows us to redeploy our space in-stores that would traditionally have been used for a free-standing cash desk," he says.
McKee also says Schuh is about to introduce Apple Pay to its mobile site because most of its customers use Apple's iOS operating system. The footwear retailer also wants to introduce 'buy now' buttons for people using Apple Pay and is in the process of discussing "something very similar" with Klarna for consumers using its app and website.
"We're implementing changes one-by-one and measuring the size and effect of those changes against a strident set of priorities and preferences that we'll use to drive the best checkout mix for our customers," says McKee.
For Agarwal, payment solutions such as Klarna and Laybuy are becoming the "new normal" for shoppers. However, he does not think buy now, pay later alone will be the big retail differentiator as speed of delivery, customer services and price comparison tools remain crucial.
Rohloff says the conclusion is very simple: retail must adapt to what customers want and he believes that is increasingly buy now, pay later.
"I remember when Visa and Mastercard first launched in New Zealand and people said it would never work as people like paying with cheque," he says. "It's no wonder that consumers can now shop with Visa, Mastercard, PayPal, American Express and everything else all around the world.
"These new payment systems will become the norm and consumers will hunt out those that offer them. Those that don't will be left scratching their heads and wondering what's gone wrong."
Next week: Matchesfashion.com to speak at future of payments breakfast
Matchesfashion.com head of product Fabrice Khullar will join a panel of retail experts to reveal how the retailer's payments strategy is changing.
Khullar will be joined by Edgar, Dunn & Company managing director Peter Sidenius, and Valitor general manager for UK - omnichannel solutions Angus Burrell to talk about the payment technologies of the future and where you need to invest.
To attend the event, contact: Tiffany.Gumbrell@retail-week.com